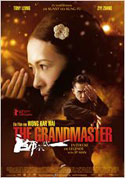 Opening 27 Jun 2013
Directed by: Kar Wai Wong
Writing credits: Kar Wai Wong, Haofeng Xu, Jingzhi Zou
Principal actors: Ziyi Zhang, Tony Leung Chiu Wai, Chen Chang, Cung Le, Hye-kyo Song
With crisp and often beautiful cinematography, but a disappointing script, The Grandmaster tells the story of legendary kung fu master Ip Man. The film primarily focuses on the period of Ip Man's life from the 1930s until the 1950s. When the master of the North, Gong Yutian (Wang Quingxiang) comes to the South to appoint his successor Ma San (Zhang Jin), the southern grandmasters are quickly defeated. Ip Man is then called upon to try and defeat the Northern masters and eventually walks away triumphant. However, the conflict and the relationships between the characters take decades to come to a conclusion.
Despite often being a beautiful film, it fails in the sense of cohesiveness and comprehensibility. The fight scenes are more often than not in slow motion and despite being interesting, invoke more eye-rolling than wonder. The story is complicated and wrought with issues. It feels almost incomplete, and considering that the movie used to be four hours long before being cut down, this perhaps makes more sense. The director claims that the four-hour cut no longer exists, so unfortunately, the two-hour movie will be the lasting result of his efforts.
As an outsider looking in on the kung fu culture, this film will offer no explanations or clarifications. Considering that the whole film is supposed to be about a specific kung fu master and there is a lot of historical context needed to understanding the story, this lack of clarification is extremely confusing and frustrating. Despite decent efforts from the lead cast, their characters feel incomplete and sometimes they disappear from the film with little explanation (e.g. Ip Man's wife). It is disappointing that a film where the director occasionally shows signs of interesting creative work (such as the vivid use of colors throughout), the movie putters and dies due to poor editing and story writing.
It is possible that this film could be quite enjoyable for kung fu fans or those better versed in Hong Kong history of the past century. However for the layman it is probably not worth the time. (Rose Finlay)