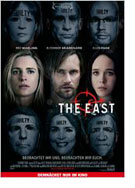 Opening 18 Jul 2013
Directed by: Zal Batmanglij
Writing credits: Zal Batmanglij, Brit Marling
Principal actors: Brit Marling, Alexander Skarsgård, Ellen Page, Toby Kebbel, Shiloh Fernandez
One finds independent filmmaking at its best in The East directed by Zal Batmanglij. The East is an espionage thriller that takes a cause for justice seriously. It's also a love story with grit. The screenplay is brilliantly written by the director himself and writer-actress Brit Marling.
Batmanglij met filmmaker Mike Cahill (Another World) in a philosophy class while studying at Georgetown University. The two collaborated on a student-produced short film. When Brit Marling saw their film she asked if she could work with them. Educated and professional, the three have been working together as independent filmmakers since their university days. They have been on a journey of a lifetime each contributing their talents to the good of the whole – similar to a theme of The East.
Marling has been writing, directing, producing and acting since 2004. Cahill and Batmanglij started some years earlier, concentrating on directing and screenwriting for film and television. Cahill had an amazing year in 2011 with his feature film Another World; Marling was his main actress. The year 2011 proved to be a resounding experience for the Marling and Batmanglij duo with a Sundance Film Festival hit Sound of My Voice. The two co-wrote the screenplay; Marling played the main actress and Batmanglij the film's director. The success of their projects brought all three to Los Angeles to take up residency and enjoy some time off to simply live life.
Not aspiring to make another film so soon, but the brains of the creative somehow never seem to rest now, do they? After their cross-country move, Marling and Batmanglij began to talk about themes for scripts relating to alternative lifestyles. Marling said that she had read about the "Buy Nothing Day" and tried it. She adds, "There was something liberating about purposefully not buying something for one whole day." The idea was discussed if one could buy nothing for a whole summer. Batmanglij and Marling decided to take up the challenge. They grabbed their backpacks and bedrolls to hit the road on foot for an adventure of a lifetime – buying nothing for a summer.
"We weren't thinking at the time that a movie would come out of our experience." Marling says, "We were just living our lives and the story gradually began to take shape." Their journey forced them to abandon a conventional lifestyle. You could have seen them hopping trains, living in tent cities or empty buildings and following after the freegan movements code (dumpster diving for food). Hanging out with nomadic folk was their pleasure. Batmanglij says, "We spent several months living and traveling with strangers who shared a similar disaffection with contemporary consumer culture." He comments, "The people we met were really awesome, warm and welcoming, but tough." Excited about his experience, Batmnaglij adds, "Going weeks without spending a dollar is an amazing feeling. Everyone should try it."
Synopsis: Sarah Moss (Brit Marling), a former FBI agent starts a new career at Hiller Brood, an elite private investigative firm. The firm's reputation is known to take care of their own without scruples. Unbeknownst to Sarah the firm goes to great lengths to protect their high-profile corporate clientele. Sarah's first assignment is to go undercover and infiltrate a collective organization called The East, a group of rebels that uses drastic means of revenge for criminal acts made on innocent people by money-hungry corporations. The people who run the corporations are their targets. They seek to destroy these people. They seek justice.
Sarah's boss, Sharon (Patricia Clarkson), has hand-picked the natural beauty with a skill proving her to be an outstanding spy agent. She is physically able to take care of herself. She's experienced. She's tough. But, to endure the psycho-drama which the rebels represent could break her cover if she is emotionally drawn into their web. Sarah has a soft side to her alter-ego that will no doubt be challenged.
The East is a highly successful operation. The members are few but skilled, intelligent and organized. Their fear tactics are impressionable. As pure as their motives appear to work for the good of the whole, they are protective of who enters into their lair. Sarah slowly wins the trust of most members. The hardest acceptance comes from the youngest member of the collective, Izzy (Ellen Page). She's the most protective for reasons that take on more of a personal vendetta – her father and his corporation being one of the rebel's targets. Sarah's initiation into the group takes her on their next "jam" – a devious act of violence. Sarah is secretly repulsed from her first excursion. As time goes on, she comes to understand the heart of the matter: The East rally. Her sincere affection for each member of the group strengthens – especially with the group's leader, Benji (Alexander Skarsgård). Sarah is increasingly torn between her two diverse worlds of moral conviction. The East collective has caught Sarah in their web of anarchy. The cat and mouse games begin. (Karen Pecota)