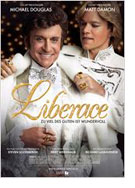 Liberace - Zu viel des Guten ist wundervoll (Behind the Candelabra)
U.S.A. 2013
Opening 3 Oct 2013
Directed by: Steven Soderbergh
Writing credits: Richard Lagravenese, Scott Thorson, Alex Thorleifson
Principal actors: Michael Douglas, Matt Damon, Scott Bakula, Eric Zuckerman, Eddie Jemison
Liberace is an American icon. A virtuoso pianist, vocalist, and entertainer, he dazzled Americans, and audiences worldwide, for more than four decades. Synonymous with glitzy sparkling rhinestones, energetically colorful attire and, his signature prop, the candelabra, Liberace was an astute businessman. He recognized early on the magnitude of having an effective publicity machine, using theatrical staging, and cultivating persuasive interaction with audiences. From poor beginnings, Liberace quickly developed a penchant for excessive luxury that persisted until his 1987 death, from AIDS-related complications.
Michael Douglas exemplifies Wladziu (Walter – Lee to friends) Valentino Liberace, and Matt Damon, as Scott Thorson, is equally strong. Based on Thorson's exposé, written with Alex Thorleifson, Behind the Candelabra traces their tempestuous five-year relationship. Meeting in 1977, Mr. Showmanship's theatrics – shy grin, homegrown chitchat and corny humility – had sealed his popularity with audiences, predominately female, across the U.S. – voyeuristic, we might now think. Lee lavishes jewelry, tailored clothes, house, car, and, plastic surgery, in Lee's likeness, on Scott. Always in control, once Lee tires of Scott it is déjà vu – Scott ousted Billy (Cheyenne Jackson) – albeit Scott exits ungraciously.
Special kudos to the pros' bringing that era alive: Howard Cummings' production design, Barbara Munch Cameron's set decoration, Ellen Mirojnick's costume design, and the art direction supervised by Patrick M. Sullivan Jr. Damon and Douglas – growing up, Lee often visited his family – deliver exceptional performances. Boosted by a stellar cast, Steven Soderbergh's sensitive direction takes us beyond watching just another gay liaison flick. Focusing on relationship complexities – young/old, rich/poor, and parent/child – and their affect on individuals, in the present and future, reminds us how fragile everyone's life cycle is. (Marinell Haegelin)


Second Opinion

Liberace (1919-1987) was a hugely successful pianist and singer who mixed classical music with contemporary tunes. His shows were elaborate and glitzy, his costumes outrageous. Part of his allure to his mostly female fans was his flamboyancy; though great care – sometimes even legal action – was taken to assure nobody would think him to be 'gay'. The film is based on an autobiography by Scott Thorson; he recounts the six years he shared with Liberace from the late '70s on: as his lover, 'boy toy', chauffeur and assistant.
Michael Douglas and Matt Damon give wonderful performances as Liberace and the decades younger Scott, though 'chemistry' between them is lacking, true affection not conveyed. Douglas and Damon are best when their turbulent relationship is deteriorating into tantrums and jealousy. But since there is no 'emotional baseline', their contempt has nothing to build on. The production – cast, costumes, mask, set, and camera – is perfect, but for a feature length entertainment it would have needed a more interesting script and the afore mentioned 'chemistry' to have me clapping all the way. (Carola A)