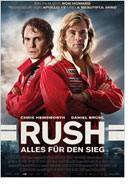 Opening 3 Oct 2013
Directed by: Ron Howard
Writing credits: Peter Morgan
Principal actors: Chris Hemsworth, Daniel Brühl, Olivia Wilde, Alexandra Maria Lara, Pierfrancesco Favino
Two racing rivals with polar opposite auras are on a life-threatening pursuit to win the 1976 Formula 1 championship, or die trying. That is the plot of this incredible movie, a true story based on the lives of British playboy James Hunt (Chris Hemsworth) and Austrian pit bull Niki Lauda (Daniel Brühl). Their rivalry had begun years before when they were neophyte drivers both doggedly determined to make the giant leap from Formula 3 to Formula 1 racing.
James, handsome, hunky, and hard drinking, enjoys a rock star existence. To the McLaren fans he is their blond god. James teases Niki about his earnest rat-like looks. Niki ignores the taunts, wasting no time exuding Austrian charm on James or on anyone else for that matter. Niki is a disciplined machine focused on his goals, designing the perfect Ferrari and winning Formula 1 championships. Arch rivals becoming friends, or something close to friends, is a conventional movie plot. However, fasten your seatbelts, Rush takes you on an incredible ride.
James takes time out, between trysts, to marry a stunning model Suzy (Olivia Wilde). She puts up with a lot from James before she runs off to snag another renowned womanizer, Richard Burton. James doesn't seem to have any difficulty finding alternative female companionship (how many pairs of feet does the moviegoer see under those sheets right before the Japanese Grand Prix?). Niki woos and marries Marlene (Alexandra Maria Lara). She is the perfect counterpoint to Suzy. Marlene is sweet, wholesome, and long-suffering; she stands by her man in his darkest hour, after his harrowing crash in the German Grand Prix.
Director Ron Howard created an astoundingly authentic '70s Grand Prix world. Hans Zimmer masterfully composed the perfect score, powerfully complementing the deafening roar of the motors. The cast in Ron Howard's masterpiece is impeccable. Olivia Wilde and Alexandra Maria Lara are excellent in their roles as '70s wives. Chris Hemsworth embodies James Hunt, the reckless, irreverent, dazzling daredevil. Daniel Brühl was handpicked by Lauda himself for the film. The split second the movie begins, Daniel instantly BECOMES Niki Lauda; his performance is breathtaking. Members of the Academy take heed. Rush deserves to roar away with a cockpit full of Oscars. (Pat Frickey)