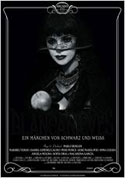 Blancanieves - Ein Märchen von Schwarz und Weiss (Blancanieves)
Spain/France/Belgium 2012
Opening 28 Nov 2013
Directed by: Pablo Berger
Writing credits: Pablo Berger
Principal actors: Maribel Verdú, Emilio Gavira, Daniel Giménez Cacho, Ramón Barea, Inma Cuesta
Literally: "white snow" and immediately we recognize the classic story of Snow White through just one slightly raised eyebrow on the face of nurse Encarna, who becomes the most sadistic wicked stepmother of all times. But first: Antonio and Carmen are happily married and expecting their first child. It's the 1920s; he is a famous bull fighter in Spain. A ferocious bull injures Antonio, putting him in a wheelchair for life. Carmen dies giving birth to their daughter Carmencita. Encarna, anticipating the opportunity to obtain great wealth, cares for Antonio in his vast castle. Carmencita, upon the death of her grandma, packs up her pet rooster Pepe and moves in with stepmother and father, where she must toil worse than the lowest slave. Pepe is eventually served for dinner. In the true spirit of the original fairy tale, the adult Carmen is taken into the woods for a fate similar to that of Pepe. She is rescued by six bullfighting dwarves. She joins their troupe, becomes famous, and attracts the attention of her stepmother, who makes her way to the bull-fighting ring for a final showdown with the poisoned apple.
It's not surprising that this fantastically tantalizing film by Pablo Berger was Spain's nomination for a 2012 Oscar, won best film at the San Sebastian film festival and won 10 Spanish Oscars, called Goyas. It is a black-and-white silent movie in the spirit of that other successful film: The Artist. Short texts of explanation are in English. Absolutely brilliant is Maribel Verdú as the wicked stepmother with her talent to appear both sinister and beautiful. Both young Carmenicita, Sofia Oria, and mature Carmen, Macarena García, are fine actresses. This is, in some respects, a new take on a classic story in that it shows how greed and envy lead people (here: the stepmother, and also a dwarf, and a circus manager) to take advantage of those more naïve or less fortunate, There is love: of a father for a child, a child for an animal, and a dwarf for a woman. The ending gives much food for thought. The Frankfurter Allgemeine Zeitung recommends Blancanieves for all age groups, but I would not take children under 13. Published in 1812 by the Brothers Grimm, it is a fairy tale for grown-ups, and the authors would have approved one hundred percent. (Becky Tan)


Second Opinion

Blancanieves is a silent movie, but not a quiet one. This Spanish version of Snow White has it all: flamenco, bull fights, love, hatred and dwarfs, of course. In a romanticized version of Spain in the 1920s, Antonio Villalta (Daniel Giménez Cacho) is a famous bullfighter. One day he gets hurt in a fight. His wife Carmen (Inma Cuesta), a shocked spectator, goes into labor. Antonio is rescued through surgery, while his wife dies in childbirth. Being now disabled, Antonio refuses to see his daughter, Carmencita (Sofía Oria). His nurse, Encarna (Maribel Verdú), sees her chance to climb the social ladder taking care of him. Carmencita stays with her grandmother, Doña Concha (Ángela Molina). When Doña Concha dies at Carmencita's communion, the young girl has to go live at her father's house. Encarna, now her stepmother, treats Carmencita worse than a servant while she herself lives in riches. Although Encarna tries to keep father and daughter apart, they get to know each other, and Antonio teaches Carmencita how to be a matadora. Not amused, Encarna kills Antonio first and almost has Carmen (Macarena García), now a young woman, killed as well. Carmen is found by dwarfs who parody bullfights. Carmen's natural gift for bullfighting soon makes her famous, again calling the evil Encarna's attention.
Although I liked The Artist a lot, I wasn't sure I wouldn't get bored without some dialogue. The opposite happened. The lack of it emphasized the pictures in a most dramatic way. Especially the women in this movie looked otherworldly beautiful, with shadows turning their faces into paintings. Psychologically, the film plays with mother figures. Carmen's mother and grandmother have a warm, sensual and passionate approach to life, whereas Encarna has lost all these qualities in favor of money and appearances. Carmen's debut as a matadora showed that beauty and soul can survive, in spite of everything she had to go through because of her stepmother. Though strongly romanticized in this movie, Spain's folk culture was another key to Carmencita's survival, something she could draw upon when everyone she loved had died. This movie left me with the hopeful message that there will always be something to fall back on, no matter how bad things go. (Katia Trost)