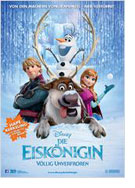 Die Eiskönigin - Völlig unverfroren (Frozen)
U.S.A. 2013
Opening 28 Nov 2013
Directed by: Chris Buck
Writing credits: Jennifer Lee, Chris Buck, Shane Morris, Hans Christian Andersen
Principal actors: Kristen Bell, Idina Menzel, Jonathan Groff, Josh Gad, Santino Fontana
This is one of those instances where the trailers do not accurately depict the movie. The trailer essentially depicts this as a film where a young princess has to stop her sorceress sister by enlisting the help of a bunch of men. In truth, Frozen is so much more than that, and, for once, Disney has been successful in creating a film with real, feminist characters.
When Elsa (Idina Menzel) was a child, she and her younger sister Anna (Kristen Bell) enjoyed sneaking around and playing with Elsa's magical gift: her magical winter powers. However, Elsa's powers are as dangerous as they are beautiful, and an accident occurs that nearly costs Anna her life. The decision is then made to erase Anna's memories of her sister's magic and to lock down the kingdom until the young princess can learn to control her powers. The film essentially revolves around Anna and Elsa's relationship, and any men are background characters. After the accident in her youth, Elsa cuts off all ties with her sister and lives essentially as a recluse in her room, succumbing to the fear she has at her abilities. Anna is a sheltered young woman who is desperately lonely and hopes to finally meet a man now that the doors to the castle are opened. She meets one alright, and gets engaged to him after knowing him for less than 48 hours, which causes her to fight with Elsa. When Elsa succumbs to her fear and dooms the land to eternal winter, Anna runs off alone into the forest to save her. As Anna discovers the treacherous conditions of the wintery mountain side, she teams up with a young mountain man (Jonathan Groff), a reindeer, and a talking snowman named Olaf (Josh Gad) to track down her sister and try to set things right.
The writers of Frozen have a lot of fun playing with stereotypes here. There is how Anna finds her "true love" extremely quickly, the use of an "act of true love" in order to save one of the main characters, and even the damsel in distress trope. All of these aspects are turned on their heads throughout the film. It is so refreshing to see such strong women taking active roles in creating their own destinies, and the male characters are often extremely helpful, but they never manage to take away Elsa and Anna's autonomy. This is a very good example of how to take a traditionally set story with princesses and a fairy tale castle, and yet make it just as good as all the other films out there that have male leads.
In addition, the rest of the film works very well together. It is, as per usual Disney fair, beautifully animated. Some of the work that went into the creation of realistic looking ice effects was absolutely stunning. The style of Frozen is very close to that of Tangled (2010), with its mixture of 3D CGI (Computer-generated Imagery) and traditional animation, though it is easy to see how much progress the animators have made in the past three years. It is also important to note that the original songs were written by Robert Lopez and Kristen Anderson-Lopez. Robert Lopez won the Tony awards for Best Score for Avenue Q and Best Score and Best Book for Book of Mormon. The imaginative and often quirky style definitely brings the film to another level. Frozen really feels like something that could have come out of the Disney Renaissance period (which includes classics such as The Little Mermaid [1989], Beauty and the Beast [1991], The Lion King [1994] and Mulan [1998]), rather than more recent films. It has even more emphasis on music than Tangled, and managed to hit on a specific feeling of whimsy and humor that made the Disney Renaissance films such classics.
There is much to be loved in Frozen. It is progressive, the songs are fun, the animation is beautiful, and it is laugh-out-loud funny at times. There is much here for the whole family (and it must be said that many critics at the press showing were laughing hysterically at parts) and its style and theme are perfect for the winter holidays. This is flick you won't want to miss this coming holiday season. (Rose Finlay)


Second Opinion

Inspired by Hans Christian Andersen's The Snow Queen, Walt Disney Animation Studios takes their latest animation feature Frozen to a whole new level in creative storytelling. The addition of song and dance endears one at any age. Under the direction of filmmakers Chris Buck and Jennifer Lee, the use of Lee's screenplay presents a delightfully comedic rendition of a tale about what is at the heart of true love. According to Frozen's iconic snowman, Olaf (voice of Josh Gad), who reiterates the fact that, "Some people are worth melting for." It is with this idea that an adventurous journey takes place to discover the lengths one will go to protect true love.
Two devoted princesses from the Kingdom of Arendelle sadly grow apart from their initially close relationship when the older sister, Elsa (voice of Idina Menzel), inherits a magical curse within her finger tips, given at birth. The magic initially appears to be a tool used for delightful beauty. Over time it becomes apparent that the curse strengthens with age and needs to be controlled or it will produce evil. If left out of control the curse is dangerous for anyone or anything that gets in its path.
The sisters share a wonderful childhood, especially playing in the snow – their favorite game. The younger sister Anna (voice of Kristen Bell) is in awe of the innocent magic that comes from Elsa's fingertips. As the two age, Elsa's powers become dangerous to Anna. The King and Queen of Arendelle – the girls' parents – are forced to separate their daughters to reside at opposite ends of the Kingdom until the curse can be broken. It's for the protection of all involved. The search for a cure is eminent. Tragically the King and Queen lose their lives trying to find a cure.
Saddened and lonely at the loss of their parents, each princess is not allowed to cling to the other for comfort. Anna is never told the reason the girls have been separated, but she knows it is painful to have no contact with Elsa. The pain grows stronger year after year the girls are apart and hardens their broken heart. Each longs for the kindred spirit they once shared.
Years of loneliness pass. Upon the day of Princess Elsa's coronation to the throne of Arendelle, the girls are thrilled to be able to see each other. Unfortunately, all is revealed from the stress of the event. Stress being one cause that intensifies the curse put on Elsa, producing an evil side. Frightened and ashamed, Elsa flees to the mountains in order to protect her beloved sister and the people in her Kingdom from an untamed destructive curse.
Anna is awakened to the pain it has caused Elsa for years and naively refuses to accept the magic as a hindrance. Together with three hilarious mountain buddies, Olaf the Snowman, the orphaned rugged mountain man, Kristoff (voice of Jonathan Groff), and his trusty reindeer, Sven, the little team journey to find Elsa. Once found, they explain to Elsa the tragedy that befell the kingdom of Arendelle on her account – the state of an eternal winter. Fearful there might be no end to the destructive curse, Elsa retreats. Anna believes for a better outcome and asks her special friends for help to save Arendelle. Kristoff, Sven and Olaf do their best but their loving and crazy efforts might not be good enough. (Karen Pecota)