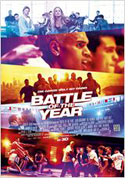 Opening 28 Nov 2013
Directed by: Benson Lee
Writing credits: Brin Hill, Chris Parker, Benson Lee
Principal actors: Josh Holloway, Laz Alonso, Josh Peck, Caity Lotz, Chris Brown
Can you remember break dancing, the street craze of the '80s which began with teenagers in N.Y.C and spread like wildfire? It has evolved over the years into something called B-boying, an energetic, acrobatic sort of dancing which is similar to gymnastics. It has also been taken up by young men across the world. You can even see a version of it most Saturday afternoons by the Hamburg Hauptbahnhof, where groups of black clothed youngsters gather to strut their stuff.
In the movie, billionaire Dante Graham (Laz Alonso) is an old b-boy who wants an American team to win the b-boy trophy at the Battle of the Year. This is an actual event which is held annually in France and is considered to be the Olympics of the genre. It takes place in Montpelier on the French coast and is open to teams throughout the world. Dante persuades his old friend Jason Blake (Josh Holloway) to find and coach young men to take part in the competition. Jason is resistant at first because he has developed a drinking habit after the untimely death of his wife and son, and his former life as a successful football coach is long forgotten. Dante is persistent, and when Franklyn (Josh Peck) is made his assistant coach, the pair of them win him over.
It just so happens that a b-boy competition is about to take place in Los Angeles, so the three of them go along to watch and recruit (and we get to see some amazing dancing). Twenty-two young men are chosen, are taken to an unused detention centre to practice and are told that they will be whittled down to thirteen for the competition, which is only three months away. The young men are a motley crew of undisciplined individuals and Josh and Franklin, joined by choreographer Stacy (Caity Lotz) must struggle hard to turn them into a team of true performers.
Finally it's time for France and off they go, knowing that the present world champions, the Koreans, will be their biggest challengers. They so dearly want to win back the trophy which hasn't been on American soil for fifteen years. After all, b-boying began in America and the trophy belongs there.
The dancing in this movie is amazing to watch and crackles with energy (albeit enhanced by 3D glasses). The dancers in the movie are true b-boys, most acting in a film for the first time. The script, however, is another matter. It's predictable, corny and a cliché from beginning to end. That doesn't stop the movie from being fun to watch and the dance music great to listen to, most especially if you're a teenager. If it is a success then I fear it is all set up for a sequel. (Jenny Mather)