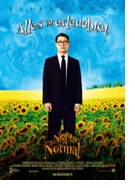 Alles ist erleuchtet (Everything is Illuminated)
U.S.A. 2005
Opening 15 Dec 2005
Directed by: Liev Schreiber
Writing credits: Jonathan Safran Foer, Liev Schreiber
Principal actors: Eugene Hutz, Elijah Wood, Jonathan Safran Foer, Stephen Samudovsky, Boris Leskin
Elijah Wood (Frodo in The Lord of the Rings), Eugene Hutz and Boris Leskin give excellent performances in this unusual "road trip" movie, based on the novel by Jonathan Safran Foer, with screenplay and direction under the command of Liev Schreiber.
Jonathan Safran Foer (Wood) is an obsessive collector of his Jewish family memorabilia – anything from a pebble retrieved from an uncle's shoe to his grandmother's false teeth. When his collection is enhanced by a photo of his grandfather side by side with an unknown woman, standing in the heart of a vast wheat field, his curiosity is piqued. He discovers that the picture was taken in the Ukraine and, according to family legend, that the woman was instrumental to his grandfather escaping to America at the beginning of the war. He feels he owes her a debt of gratitude and sets out to find her.
In Odessa, an old man (Leskin) and his grandson Alex (Hutz) run a business helping "rich Jewish Americans" find their family heritage. Jonathan is their latest customer. Together the three set off in an old Trabi in search of a mysterious village no one seems to have heard about. The cultural differences between the main characters – each quite fascinating and removed from any kind of clichés – gives rise to moments of subtle humour and thoughtful insight as well as simply comic situations. Threaded between all this is plenty of symbolism along with a growing awareness of the tragedy that, in fact, unites all three protagonists.
Everything Is Illuminated is hardly your typical, riotous, tragicomic road trip movie; however, it drew me in from the very first scene with Elijah Wood's intense gaze through large, heavy framed glasses. All three leads were excellently played and full of life. It is a story about remembering or, better said, not forgetting or denying. (Osanna Vaughn)