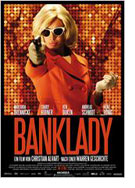 Opening 27 Mar 2014
Directed by: Christian Alvart
Writing credits: Christopher Silber, Kai Hafemeister, Tomás Cimadevilla
Principal actors: Ken Duken, Niels-Bruno Schmidt, Nadeshda Brennicke, Charly Hübner, Olaf Krätke
German director Christian Alvart (Case 39) tells the story of a young working-class woman in post-war Hamburg dreaming of the big wide world (script by Christoph Silber and Kai Hafemeister). It is the exciting true-life story of Gisela Werler, Germany's first female bank robber. With fascination we watch the metamorphosis of a shy, inconspicuous young woman slogging away in a wallpaper factory becoming a model-like self-assured and daring lady bank robber. Nadeshda Brennike gives a tremendous performance, earning her the Silver Hugo for Best Actress at the Chicago International Film Festival 2013.It all starts when Gisela's colleague Uwe (Andreas Schmidt) brings his friend Hermann Wittorff (Charly Hübner) – who calls himself Peter – to her house, where she lives with her aging and demanding parents. She is immediately drawn to the charismatic Hermann. When Gisela finds out that the two men are bank robbers, she wants to join them. They don't want her and are sceptical. But Gisela does not stop nagging Hermann to "teach her the trade". Her naïveté and determination create some very humorous situations. Fashioning a blonde wig, high-heels, gloves and large sunglasses she marches into the bank for her first job, politely asking to "please put all your money into the bag".
The subtle humour, brisk tempo and good editing keep us fabulously entertained. Compliments go to the set and costume designers (Birgit Kniep-Gentis, Gabriella Ausoio and Ingken Benesch) as well as the talented camera man Ngo The Chau. They create an authentic atmosphere of life during the 1960s, showing us in many small details Gisela's world, from listening to the popular songs by Conny Francis to the Royal Dutch wedding when the entire nation is glued to the TV screen. It is great fun to see Gisela changing from the drab factory woman into a sophisticated young lady donning various fashionable outfits and different wigs when going off to present her bag once more to an obedient bank clerk. But after two years of playing cat-and-mouse with the frustrated police and 19 successful bank robberies something goes wrong. Hermann shoots at the bank customers; Gisela gets hysterical and Kommissar Fischer's (Ken Duken) efforts pay off. But there is no real satisfaction for him. When facing the judge, Hermann takes all the blame off Gisela, claiming that she only played along out of love for him. Still in court, he proposes to her.
The story might remind you of Bonnie & Clyde, but this is no bombastic Hollywood production. It's a thriller/love story reflecting the background of Gisela's upbringing, her ambition to escape her restricting, narrow-minded surroundings, her longing for independence and for a life with the man she loves.
At the time the robberies were frequently reported, the media making Gisela into a sex symbol. The whole country was mystified. Who is the bank lady? For a long time the police were clueless. From 1965 to 1967 Gisela and her accomplices robbed 400,000 Deutschmark, a new record in Germany's criminal history. When caught, she was sentenced to nine years and six months, Hermann to 13 years of prison. They got married in prison and stayed together until the end of their lives. Gisela Werler died in 2003 and Wittorff in 2009. (Birgit Schrumpf)