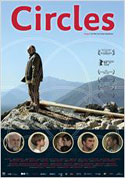 Opening 17 Apr 2014
Directed by: Srdan Golubovic
Writing credits: Melina Pota Koljevic, Srdjan Koljevic
Principal actors: Aleksandar Bercek, Leon Lucev, Nebojsa Glogovac, Nikola Rakocevic, Hristina Popovic
Srdan Gobluovic's film details the concentric rings binding six people after a tragic incident of courage and cowardice, which took place in 1993 and today still haunts the small town of Trebinje, Bosnia Herzegovina.
A young Serbian soldier, Marko (Vuk Kostic), by chance in Trebinjeâ s town square on a lovely summer day, attempts to help a Muslim kiosk owner, Haris (Leon Lucev), who is harassed and then attacked, by racist Serbian soldiers on leave from the Bosnian War. Haris escapes, but the soldiers turn on Marko and beat him to death. Six people are deeply affected by the murder: Marko's father, Ranko (Aleksandar Bercek), now a bitter man full of rage and hatred; Marko's fiancée, Nada (Hristina Popovic), who blames Haris for what happened; Marko's friend Nebojsa (Nebojsa Glogovac), now a successful surgeon; who watched the murder passively from the sidelines; Todor (Boris Isakovic), the leader of the pack of bullies, now a wealthy black marketer, and a young man, Bogdan (Nikola Rakocevic), who seeks work from Ranko, unaware that his father, killed in the war, was one of Marko's murderers.
It is 12 years later. Haris now lives in Germany with his wife and children. One day Nada appears at his door with her six-year-old son, seeking refuge from her violent husband. About the same time, in Trebinje, Bogdan is searching for a job and Todor, leader of the brutal gang, is brought to Neboja hospital near death
The gradual unfolding of the events tying these six together seeks to answer the universal questions: can there be forgiveness for murder? Will forgiveness even bring peace? Or is revenge, that deadly instinctive human reaction, the proper way for the living to avenge the unforgivable? Director Gobluovic keeps his audience in fascinated suspense as he explores the answers.
Circles, nominated as the Serbian entry for the Oscars this year, won 18 prizes at film festivals in 2013, including the Grand Prix du Jury in Brussels, a Special Jury Award at Sundance, three Best Director Awards, and the Best Film Award at the Austrian Film Festival in Freistadt. It's a terrific film and the actors, especially Aleksandar Bercek, are outstanding. (Adele Riepe)