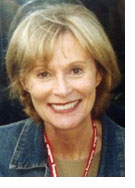 Adele Riepe
After 18 years in Bonn as the Bureau Manager for The New York Times, Adele Riepe returned to New York, where her free time, outside the offices of The Times, was often spent in the theater or at the movies. She was delighted to be back in a city where films were shown in the original language, whatever that might be, with English subtitles. Both films and theater had always been her passion, and while she wrote for The Times during her years in Bonn, she had never entertained the idea of becoming a film critic.
When her work at The New York Times ended in 1999 she began to consider returning to Germany where she had spent most of her adult life and where her daughter and stepson lived. Her German daughter's marriage to a man from Hamburg and the birth of their daughter clinched it for Adele and in 2002 she moved to Hamburg. She was delighted to discover the Currents film critics with their enviable press invitations to the screenings of the films opening in Germany, most of them shown to the press in the original languages (with German subtitles, of course). Soon she was writing for Currents, Hamburg Guide, www.awchamburg.org and KinoCritics, and attending the annual Filmfest Hamburg where in 2004 she clocked 38 screenings in less than three weeks and wrote 17 reviews.
Now the Executive Editor of Currents, and still writing as a film critic, she hopes to attend both the Internationale Filmfestspiele Berlin and possibly the Festival de Cannes as well as the Filmfest Hamburg in 2006.
Contact Adele Riepe at Adele.Riepe@KinoCritics.com
Films Reviewed by Adele Riepe