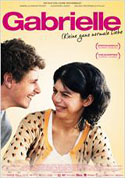 Gabrielle - (K)eine ganz normale Liebe (Gabrielle)
Canada 2013
Opening 24 Apr 2014
Directed by: Louise Archambault
Writing credits: Louise Archambault, Valérie Beaugrand-Champagne
Principal actors: Gabrielle Marion-Rivard, Alexandre Landry, Mélissa Désormeaux-Poulin, Vincent-Guillaume Otis, Benoît Gouin
You have to love her and her catching joie de vivre. Gabrielle is not only a lovely young lady with an extraordinary musical talent; she also suffers from the Williams-Beuren-Syndrom. Her biggest joy is choir practice with other young disabled people at the recreational centre. Here she meets Martin. When the two shyly try to spend some private time together, life becomes complicated. Both youngsters are under constant observation by their parents or guardians who are alarmed by this new development. Would the two be able to handle an adult relationship when they need assistance even with their daily routine? With stubborn courage and against all odds, Gabrielle and Martin are fighting for the right to grow-up, to be independent and to fall in love.
Gabrielle Marion-Rivard stars in the title role and suffers herself from the same disorder as her character. Apparently, in real life she is as cheerful, has the same self-destructive mood swings and also had to fight for her romantic liberation. She grew up in a musical family, attended concerts and took ballets lessons. This is her first film role. Martin is portrayed by Alexandre Landry, a young professional actor. He has no disabilities but is very convincing in mimicking Marion-Rivard's disorder for his role.
This uplifting story is carried by sweeping music whilst addressing a touching issue with a refreshing mix of sincerity and subtle humor. The legendary Quebec singer-songwriter Robert Charlebois surprises with a cameo appearance.
Gabrielle won the audience award at the Locarno Film Festival. (Birgit Schrumpf)