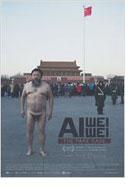 Opening 8 May 2014
Directed by: Andreas Johnsen
Writing credits: Andreas Johnsen

The title refers to the trumped up charges made by the Chinese authorities against Ai Weiwei. A good documentary is one which makes you want to know more about its subject, and this is true of Andreas Johnsen's glimpse into Ai Weiwei's life.
People in the West first heard of the Chinese architect when he designed the" birds nest" stadium for the Olympic Games in Beijing. He followed this with an exhibition at the Tate Modern art gallery in London of millions of sunflower seeds, each one hand made and hand painted by Chinese villagers. While visitors were bemused by this unusual exhibition news came through from China that Weiwei had been imprisoned for "tax evasion." After viewing the seeds members of the public were invited to sign a petition in the art gallery requesting his release.
Mr. Johnson's documentary begins just after Weiwei leaves prison. Weiwei has been ordered not to talk about his experiences there, so instead the camera films the artist's day and provides glimpses into his everyday life. Weiwei plays happily with his little boy and shares a meal with his son and young wife; he takes a walk with his mother and is begged by this anxious old lady not to fall foul of the authorities again, as his father had done before him and he discusses the development of his artistic ideas with his agent. He also fends off questions about his future (and immediate past) from well-meaning friends and journalists from the West.
Gradually a portrait of a traumatized but very brave man emerges, a man who is first and foremost an artist. When members of the public send money to help pay the fine imposed when he was charged with tax evasion Weiwei watches as it is counted but he takes some of the banknotes, shapes them into origami boats, pins them onto his clothes and is photographed like a fashion model. He cannot talk about his eighty-one days in prison but he can reconstruct his tiny prison cell and make sculptures of himself inside it, complete with two prison guards at all times and send an exhibition of it to the Biennale in Venice. Six tiny but life-size cells show the artist sleeping eating and living out his time in this nightmare.
Since then every minute of every day must be so precious to Ai Weiwei. This documentary shows the fragility of his freedom and his quiet, brave and important stand against Chinese injustice. It also shows the importance of the media in making sure that such injustices are bought to the attention of people like us, people who may be in the position of offering support to those who suffer from them. Whether we make a stand against injustice is for us to decide. (Jenny Mather)