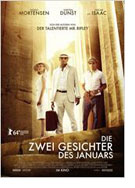 Die zwei Gesichter des Januars (The Two Faces of January)
U.K./U.S.A./France 2014
Opening 29 May 2014
Directed by: Hossein Amini
Writing credits: Hossein Amini, Patricia Highsmith
Principal actors: Kirsten Dunst, Viggo Mortensen, Oscar Isaac, David Warshofsky, Daisy Bevan
The McFarlands are an enviable American couple at leisure in Athens, Greece. Collette (Kirsten Dunst) is young, amiable and beautiful. The fairly older Chester (Viggo Mortensen) is suave, ruggedly handsome and rich. They meet an American expat (Oscar Isaac) tour guide at the Acropolis; enamored, Rydal happily accepts their dinner invitation. Afterward, returning Collette's forgotten bracelet to the elite Grand Hotel, Rydal's good gesture unintentionally involves him in Chester's mischief. A clue to his darker side: Chester's inventive mentality, capably twisting tales to suit the circumstances. Equally deceiving are Rydal's boyish good looks. He just happens to know someone who may be able to help Chester. To kill time, the three head to the islands; infatuations intensify escalating an alpha struggle. Does Collette know, and how much? Being "joined at the hip" is never easy for the morally compromised.
Hossein Amini's (The Wings of the Dove screenplay) directorial debut is his adaptation of Patricia Highsmith's – renowned for physiological thrillers – 1964 novel. The film's tempo and structure play on juxtaposing uptight and unruffled paranoia, with doses of additional creature phobias. Alberto Iglesias's music and Marcel Zyskind's cinematography admirably mirror the mounting tension while retaining the flavor of 1962. Nicolas Chaudeurge and Jon Harris could have edited more shrewdly. We have privy to each shenanigan as it begets another, culminating with a clever attention-grabbing twist. (Marinell Haegelin)


Second Opinion

In 1962 Athens, the glamorous couple Colette (Kirsten Dunst) and Chester MacFarland (Viggo Mortensen) encounter a young Greek-speaking American named Rydal (Oscar Isaac). Rydal is drawn to MacFarland's sophistication and wealth and especially to Colette's beauty. When the MacFarlands turn out to be not just innocent tourists, Rydal's infatuation with Colette leads him to becoming dangerously entangled in their affairs with seemingly no way to escape.
This is an empty film. It is utterly devoid of development, feeling and chemistry. Considering it is an old-school thriller with no car chases or CGI to quicken the pace, these three aspects are incredibly important to make the film interesting. However, the protagonist is unlikable and totally without charisma, Kirsten Dunst is given absolutely nothing to work with and Viggo Mortensen tries to fill the gap but there is nothing really for him to fill it with. In truth, I am not convinced that Oscar Isaac has the ability to play a relatable character. For certain in this film he does not manage to make the audience care for his plight really at all. Considering that he is the protagonist, this is particularly unfortunate. However, considering the development of all of the characters, it is possible this has more to do with Amini's script than anything. Similarly, Dunst's character is no more developed than a lampshade despite being the crux of all of the relationships in the film. She smiles, she gets angry and she misses the US, but she has no backstory and yet all of the men are deeply enthralled with her. Honestly it is hard to believe that the original story was written by a woman considering that Colette is about as two-dimensional as they come.
While the film manages to hold the interest of the audience, it fails to make you develop a personal interest in the characters. It almost feels as though these characters deserve their fate, so devoid of any personality, charisma and charm are they. This one is worth maybe a rental on a particularly boring day, but don't expect Hitchcock. (Rose Finlay)