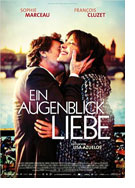 Ein Augenblick Liebe (Quantum Love, Une Rencontre)
France 2014
Opening 7 Aug 2014
Directed by: Lisa Azuelos
Writing credits: Lisa Azuelos
Principal actors: Sophie Marceau, François Cluzet, Lisa Azuelos, Alexandre Astier, Arthur Benzaquen
This is a French film – and so it is about love, of course – specifically, about that special moment of instant attraction – compelling, demanding, love at first sight, between Elsa, a very beautiful woman (Sophie Marceau, LOL - Laughing Out Loud) who has sworn never to get involved with a married man, and an attractive, older, happily married man, Pierre (François Cluzet, Ziemlich beste Freunde).
Elsa is a successful author and they meet at a cocktail party launching her latest book. The magnetism is immediate. They talk, flirt, laugh and – part. For Elsa, married men are taboo, and Pierre is very content with his wife and their two kids. But then they meet again two weeks later, by chance. This time they are even more deeply drawn to each other. They kiss on the dance floor, and spend the evening together, bar hopping, flirting, touching, and finally, in the early morning hours, they are alone – one more passionate kiss. Then, they agree to leave a further meeting up to providence and – they part; Elsa returns to her apartment and her teenage daughter, Pierre to his wife and kids.
Will this man resist a woman as alluring as Elsa? Can she resist him? The movie portrays the two sides of love, Eros (sexual attraction) and Agape (from the Greek), which refers to respect and a common bond. Director Lisa Azuelos makes the dilemma and the tension clear, and the audience is caught by the intensity and longing.
Marceau is fabulous, and Cluzet (in his first romantic role) is attractive and charming, as is the film itself. But it is a thin film – somehow there is something missing. It is just not enough to really chew on. (Adele Riepe)