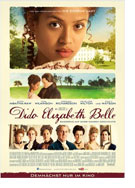 Dido Elizabeth Belle (Belle)
U.K. 2013
Opening 14 Aug 2014
Directed by: Amma Asante
Writing credits: Misan Saga
Principal actors: Gugu Mbatha-Raw, Tom Wilkinson, Matthew Goode, Emily Watson, Miranda Richardson
Scriptwriter Misan Sagay saw an intriguing painting of two aristocratic young women in eighteenth century England and wrote a story about them. Director Amma Asante brought the story to life in her movie Belle. The movie, which is based on a true story, has two interconnecting strands. One of the women in the painting is the daughter of a slave and an admiral in the Royal Navy and concerns her position in a white, upper class world while the other strand is about a pivotal legal case concerning a slave ship.
Imagine their consternation when Lord Mansfield, the Lord Chief Justice (Tom Wilkinson) and his wife (Emily Watson) are asked to look after their relative's daughter. Their relative is Admiral Sir John Lindsay (Matthew Goode), and the little girl is their grandniece Lady Dido Elisabeth Belle (Gugu Mbatha-Raw) whose dead mother, Maria Belle, was a black slave. The elderly couple embrace the child, who grows up with another grandniece, Lady Elisabeth Murray (Sarah Gadon), the other young lady in the painting.
Once the girls are old enough to "come out" in society their guardians must find suitable husbands for them. They soon come to the attention of Lady Ashford (Miranda Richardson), who has two sons to marry off. Dido meanwhile must face the prejudice against her caused by her colour and becomes interested in the views of John Davinier (Sam Reid), the local vicar's son who is an ardent reformer.
Lord Mansfield has to grapple with his conscience over the "Zong" Trial, which took place in 1781, two years after he commissioned the painting. Dido and Davinier take an active interest in the outcome of the trial, which concerns an insurance claim about a lost cargo. The cargo just happened to be slaves en route to the Caribbean on the ship Zong, and Lord Mansfield must make a decision which may put at risk his country's future as a trading nation.
This costume drama is a feast for the eyes because the clothes and settings are gorgeous to look at, and while the pace of the movie is sometimes slow, it means that the eye has more time to absorb the beauty of its scenery. (Decide for yourself whether the background music is suitable or not.) This movie shows that the genteel members of eighteenth century English society were prepared to confront the slave trade and England's dreadful part in it, make it the leading question of the day and join with other concerned citizens to take decisive action to bring it to an end. (Jenny Mather)