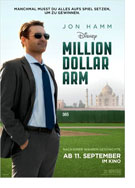 Opening 11 Sep 2014
Directed by: Craig Gillespie
Writing credits: Thomas McCarthy
Principal actors: Jon Hamm, Aasif Mandvi, Alan Arkin, Bill Paxton
Walt Disney's legacy lives on. The wonderful world of Walt Disney and his personal words of encouragement were often presented as a dare-to-dream. Here are a few of his famous quotes: "If you can dream it, you can do it." "All our dreams can come true, if we have the courage to pursue them." "It's kind of fun to do the impossible."
Storytelling, the Disney way, presumes that dreams can be realized. Based on an unimaginable reality, Disney Studio Productions presents their latest feature film Million Dollar Arm. In collaboration with producers Mark Ciardi and Gordon Gray (Mayhem Pictures), Joe Roth (Roth Film Productions) and director Craig Gillespie (Craig Gillespie films); the famed production companies "knock-it-out-of-the-park" with their memorable and true-life baseball story about a dream come true.
Million Dollar Arm is an account of what dreams are made of from the lives of two East Indian teens (Rinku and Dinesh) and their journey to baseball notoriety. It's a courageous tale perfectly made for the Walt Disney "classics" film-reel vault.
The real-life sports agent, JB Bernstein, recalls, "Statistically speaking, in a country of 1.2 billion people, the odds are good that you will find an undiscovered raw talent." He adds, "The hope was to capture all those cricket fans and turn them towards baseball." Bernstein has not only found one but two young hopefuls.
The actors who played Rinku (Suraj Sharma, Life of Pi) and Dinesh (Madhur Mittal, Slumdog Millionaire) knew nothing about baseball, nor did the real-life characters, Rinku and Dinesh. And they did not play the sport; but they had the natural raw talent to throw a baseball faster than any of their countrymen. This won them the contest known as the "arms worth millions." Similar to the real-life characters, the actors Suraj and Madhur also knew nothing about baseball. For the film role, they underwent heavy training in India and continued to train throughout the duration of filming the movie. Raw talent to be reckoned with doing double duty – acting and learning to seriously play baseball.
Synopsis:
Famed sports agent JB Bernstein (Jon Hamm) is struggling to keep his business and reputation alive. His partner and friend, Aash (Aasif Mandvi), and the last of their office staff, Theresa (Allyn Rachel), want to quit. Though they believe in JB's scouting abilities, the agency needs at least one client to keep them up and running.
Inspired by a conversation with Aash while watching a match of East Indian cricket players, JB has an idea. It's a long shot but he figures if he can find a young cricket pitcher from India to sign with a major league baseball team, his career will be saved. A monetary scheme desperately needed to materialize for him.
JB travels to India and produces a highly publicized, nation-wide competition to find baseball's next pitching ace. He calls for a talent search for The Million Dollar Arm. The cantankerous retired baseball scout Ray Poitevint (Alan Arkin) and India's most diligent want-to-be baseball player, Amit (Pitobash), find JB not only one winner but two. A celebration mixed with joy and sorrow as the village-raised teens are entrusted into the hands of an entrepreneurial egotistical playboy.
JB brings the boys to the States to train under the direction of the University of Southern California coach Tom House (Bill Paxton) – the best in the west. Amit tags along for the experience but mostly as a chaperone for the boys. Amit understands that JB has taken on a responsibility, which he has no clue how to appropriately manage.
The cultural differences take a toll on JB, the boys and Amit. The dynamics are observed by JB's tenant Miss Brenda (Lake Bell). In an attempt to speak into the situation Miss Brenda is the glue that holds the "boys" together in relationship – accountable for their actions, commitment and love for one another. (Karen Pecota)