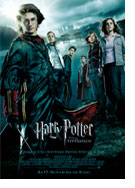 Harry Potter und der Feuerkelch (Harry Potter and the Goblet of Fire)
U.K./U.S.A. 2005
Opening 17 Nov 2005
Directed by: Mike Newell
Writing credits: Steven Kloves, J.K. Rowling
Principal actors: Daniel Radcliffe, Emma Watson, Rupert Grint, Michael Gambon, Maggie Smith
Directed by Mike Newell (Four Weddings and a Funeral), with screenplay by Steve Kloves, the latest movie in J.K. Rowling's Harry Potter series introduces Ralph Fiennes (as Lord Voldemort) and Brendan Gleeson (as "Mad Eye" Moody) to the growing cast of heavyweights involved in this project.
The new school year at Hogwarts brings a completely new experience for Harry (Daniel Radcliffe) and his friends Ron (Rupert Grint) and Hermoine (Emma Watson). The school has been chosen to host the international Triwizard Tournament, including students from two other wizarding schools: Durmstrang and Beauxbatons. Unfortunately, the event is overshadowed by dark omens in the sky and nightmares disturbing Harry's sleep, seeming to warn of the imminent return of the young wizard's ultimate enemy: Lord Voldemort.
Because of the dangerous tasks involved in the Triwizard Tournament, participants (one champion from each of the three schools) have to be seventeen or over. This automatically excludes the fourteen-year-old Harry and his friends; that is until the Goblet of Fire unexpectedly spits out the name of a fourth contestant: Harry Potter. Shock, claims of cheating, anger, fear of foul play and confusion fly through the Great Hall, but the rules can not be challenged. The Goblet of Fire's selection is final.
Harry must face a dragon, save Ron from the clutches of the merpeople who live in the lake below the school and navigate the dangerous maze where the Triwizard trophy has been hidden. Along the way, the new teacher of the dark arts and auror (specialised in searching out Voldemort's death eaters), "Mad Eye" Moody, is bent on giving Harry as much guidance and help as he can; yet, in spite of all the efforts made to keep the tournament safe, the contest for a trophy becomes a contest for Harry's life, as he faces his nemesis for yet another dramatic showdown.
The newest Harry Potter movie is probably the tightest of all four so far. The exceptional length of the book obviously forced the filmmakers into careful choices, leaving no space for surperflous footage. Some readers may be disappointed, but most fans will probably be delighted with the two and a half hour extravaganza. In spite of its sepia overtones (there is not one sunny day in the whole experience) and loss of innocence (more than just peripheral deaths), the film did give space to some measure of humour. (Osanna Vaughn)