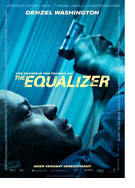 Opening 9 Oct 2014
Directed by: Antoine Fuqua
Writing credits: Richard Wenk, Michael Sloan, Richard Lindheim
Principal actors: Denzel Washington, Marton Csokas, Chloë Grace Moretz, David Harbour, Haley Bennett
If you are a fan of action/crime/thriller movies you most certainly will be a fan of this film. The Equalizer is a film adaptation of the Equalizer television series that ran for four seasons (1985-9) in the U.S. It stars Denzel Washington as a former, highly trained government agent who comes out of retirement when he witnesses the ugly underbelly of human behavior one time too many.
Robert McCall (Washington), the antihero is just your average Home Mart store manager by day. At night you find him answering his insomnia by reading in an all-night diner where he befriends a young prostitute Teri (Chloe Grace Moretz), who works for the Russian mafia. And so it begins…
Director Antoine Fuqua skillfully creates visual vignettes that crystallize the story into bite-sized morsels to be slowly chewed, savored, and digested. The direction of his storytelling has clean, clear, linear movement, which effortlessly moves the viewer along the tale.
A refreshing experience while viewing this film is the wonderful cinematography of Mauro Fiore. The film is done without a barrage of special effects or computer-generated graphics. The camera lens delivers to the audience eye a powerful point of view as well as well-shot close-ups, which capture an actor's subtle nuances. Mauro Fioro's eye to filming guides the viewer in understanding and connecting with the characters.
The Equalizer is an intelligent, well-thought-out film that delivers. The filmgoer will exit the theater feeling quite satisfied and looking forward to seeing when Robert McCall will be back for another installment of dealing out justice. (Abby Myers)