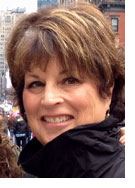 Abby Myers
Abby Myers is a film and pop culture enthusiast who divides her time between Hamburg, Germany and Portland, Oregon. Her earliest film memories are of sitting in Saturday afternoon double-headers, clutching a box of Milk Duds while being transported off to places one could only dream of, science fantasy being a favorite genre.
Abby embraced the glitter and magnetism of Hollywood years ago and to this day likes to offer her perspective through critiques of all genres of films.
Abby's recently produced a documentary short, Wendy's Shabbat, which is now being selected for several national film festivals. This new venture as a documentary film producer has given her a new 360-degree insight on what it takes to produce film that is worthy of viewers' time.
Abby began her a career as an educator and has over 35 plus years of experience in kindergarten through adult school and university instruction as well as the role of an elementary school principal and Human Resource Administrator.
Films Reviewed by Abby Myers