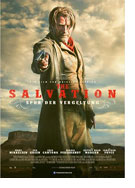 Opening 9 Oct 2014
Directed by: Kristian Levring
Writing credits: Anders Thomas Jensen, Kristian Levring
Principal actors: Mads Mikkelsen, Jeffrey Dean Morgan, Eva Green, Eric Cantona, Mikael Persbrandt
This is a DANISH western, and it easily holds its own with the great Western films before it, American, Italian-- you name it. Mads Mikkelsen, as the tradition demands, is ice-cube cool even when he is half dead. It was shot in South Africa, which, by the looks of it, will be the new location for any revival of westerns. (And this one could start a trend!) Director Kristian Levring is to be congratulated for pulling off a coup – a successful film as far from a typical Danish film as one could imagine!
A bit of plot just to intrigue you….
It is 1870. Jon (Mikkelsen), a Dane, who came to America with his brother Peter (Mikael Persbrandt) to homestead after both were soldiers in the Danish/German war of 1864, is waiting impatiently at the railway station for his wife (Nana Øland Fabricus) and ten-year-old son (Toke Lars Bjarke), to arrive from the old country. He gathers them up and settles with the family in the stagecoach for the trip to his ranch. (His brother elects to stay in town a night or two, and heads for the bar.) The plot evolves from that journey.
That is as much as I want to reveal, except: there is a really malevolent, depraved man, Delarue (Jeffrey Dean Morgan), intent on killing Jon. There is also a fascinating and unusual female character, Madelaine (Eva Green), who will intrigue you (and virtually steals the film). And there is a shocking betrayal. That's enough – 10 minutes into it, you will be completely hooked and, if it begins a bit slowly, it becomes so fast-paced you can barely catch your breath. Enjoy it! (Adele Riepe)