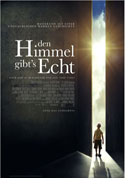 Den Himmel gibt's echt (Heaven Is for Real)
U.S.A. 2014
Opening 6 Nov 2014
Directed by: Randall Wallace
Writing credits: Randall Wallace, Chris Parker, Todd Burpo, Lynn Vincent
Principal actors: Greg Kinnear, Kelly Reilly, Thomas Haden Church, Connor Corum, Lane Styles
Four year old Colton Burpo (Connor Corum) has a near-death experience. Miraculously he lives. Colton's doctors, relieved at the success of the emergency surgery, are amazed at Colton's remarkable recovery. Miraculous!
Colton isn't aware of the severity of his case and cares only to talk about one thing: his recent trip to heaven. He wants everyone to know. His claim is that heaven is for real. Colton first describes what was happening to his family while he was in heaven, "I looked down to see the doctors operating; mom is calling people to pray in the waiting room, and dad is in another room yelling at God not to let me die."
Colton uses his experience to probe questions that make his immediate family, friends and the small town community folk uncomfortable about people he never knew. Eyebrows rise when he describes the appearance of Jesus, their talks and Jesus' horse while He shows Colton around heaven. Colton exclaims that heaven is for real.
Colton candidly talks about several details of his journey. Concerned, his parents are skeptical and pass his tale off to a heavy dose of medications in his body from intense surgery. Once Colton reveals further information of things he was not privy to knowing due to his age, people begin to take notice. His childlike innocence gives him boldness to speak matter-of-factly with the frankness to ask difficult questions. To anyone who will listen.
Pastor Todd Burpo (Greg Kinnear), Colton's father, tries to make sense of his son's extraordinary journey. He wants to believe him but the concern to not believe comes in different forms. Colton's experience confronts Todd with his own belief about heaven, as it does with his mother, Sonja Burpo (Kelly Reilly), when he mentions that he sees his sister in heaven. A sister he did not know. Todd and Sonja grapple with the importance of practicing what they have spent a life-time preaching – a faith in God and their fellow man.
Based on the #1 New York Times best-selling book of the same name written by Todd Burpo and Lynn Vincent, filmmaker Randall Wallace and screenwriter Christopher Parker bring to the cinema silver screen Heaven is for Real. Colton's incredible story is a remarkable visual. Wallace and Parker collaborate to present the facts, the controversy and the dilemma between the reality of a child's personal journey and an adult world lacking simplicity and imagination. Actor Connor Corum's performance of childlike innocence endears the film audience of Colton's compelling experience that Heaven is for Real! (Karen Pecota)