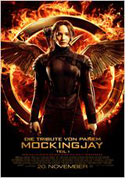 Die Tribute von Panem - Mockingjay Teil 1 (Hunger Games: Mockingjay Part 1)
U.S.A. 2014
Opening 20 Nov 2014
Directed by: Francis Lawrence
Writing credits: Peter Craig, Danny Strong, Suzanne Collins
Principal actors: Jennifer Lawrence, Josh Hutcherson, Liam Hemsworth, Woody Harrelson, Donald Sutherland
Mockingjay - Part 1 is based on the first half of Suzanne Collins' final volume of The Hunger Games trilogy. Picking up where Catching Fire left off, Katniss a.k.a. Mockingjay (Jennifer Lawrence) meets with President Coin (Julianne Moore) and Plutarch (Philip Seymour Hoffman) at the District 13 headquarters. The arrow Katniss fired into the force field forever shattering any future Hunger Games, also ignited Panem's downtrodden citizens to stage uprisings against the Capitol. President Coin wants her as the movement's "voice". When Katniss balks, Gale (Liam Hemsworth) and Boggs (Mahershala Ali) obligingly fly her to District 12; that changes her mind. A barrage of Capitol propos – promotional misinformation – with Peeta (Josh Hutcherson) and Caesar (Stanley Tucci) having tête-à-tête's rattle Katniss, whereby Primrose (Willow Shields) has an idea infinitely clever for one so young. Once enrobed, under Effie's (Elizabeth Banks) tutelage, Katniss's propos run-throughs are uninspiring. "You want a symbol? Let it come from her." Haymitch (Woody Harrelson) suggest a trip, with film crew in tow, to District 8. Where scurrilous President Snow (Donald Sutherland), snug in the opulently prosperous and technically rich Capitol, detects Katniss alive: "moves and countermoves." Culminating with Beetee's (Jeffrey Wright) manipulating the force field synchronized with an all-volunteer crew's rescue mission.
The decision to separate the final book in two-parts works in this franchise science fiction film, because if someone missed the first or second film time is taken to ensure the characters, and positioning, is understood in the bigger scheme. Francis Lawrence's direction is praiseworthy, just as is Jo Willems' cinematography, James Newton Howard's music, and Alan Edward Bell and Mark Yoshikawa's astute editing. The cast member's portrayals – Lawrence, Hemsworth, and Harrelson deliver especially strong performances – are engrossing, engaging, and perceptive; Josh Hutcherson's better here. But the designers – production, set, art direction, costume, make-up, et al, and technical artists in the multi-diverse areas of technical realizations deserve like accolades. Without them, the Games could not have progressed, and we would not be on tenterhooks to see how this game ends. (Marinell Haegelin)


Second Opinion

What is needed to be the chosen face of a revolution? There are plenty of men who come to mind. Men representing pure revolutionist are men such as Spartacus, Che Guevara or Napoleon Bonaparte. From the Civil Rights activists, we think of Martin Luther King and Abraham Lincoln. The greatest peaceful revolutionists are Gandhi and Martin Luther. And although there are few women, we think of Joan of Arc, Susan B. Anthony and Emmeline Pankhurst who were pushing for social and political change.
Suzanne Collins' third book has made it to the screen in a two-part series directed by Francis Lawrence. It is a vision of destruction and suffering with no light at the end of the tunnel. Our first look at Katniss Everdeen (Jennifer Lawrence) does not show us the face of a fearless revolutionist, but a whining trembling girl who hides in the dark. We enter into a space of fear, sweat and survival where district twelve has been eliminated and Everdeen has been brought to district 13 which is an underground military unit. This secret military faction is hiding from the capitals and is trying to unite all the rest of the districts in order to survive and bring about a new order to this world. President Alma Coin (Julianne Moore) has asked Katniss to be their revolutionary face which they need; someone to trust, someone to unite the forces and, besides, they have a perfect outfit for her. But unfortunately here is where we start to see the flaw in the script.
Katniss spends most of her time struggling with her emotional feelings which fluctuate between her lost love Peeta and the strain of playing in the Hunger Games. When she agrees to do it, it is not with the soul of a revolutionist but one who wants to save those who played in the hunger games (for personal reasons) and to make sure her sister can keep a cat. There are emotional scenes of an entire hospital weeping and moved by her presence, and the next moment the hospital is wiped out, and then she is able to take out two fighter jets with a single arrow. Where is that face of a revolutionist who wants to help the society and is willing to sacrifice her life? The film reveals a ridiculous simple military strategy where Katniss is constantly surrounded by military bodyguards which only a high-budget movie could get away with and at the same time is still entertaining and that's why everyone will be running to the cinema and loving the over kill of every scene but please don't think too deeply about this film or you will be disappointed. Haymitch Abernathy (Woody Harrelson) at one point says something to the effect that we need to see the real Katniss, not some studio front, so she needs to see action and then we will see the real Katniss. That never happens. Jennifer Lawrence somehow lost her authenticity in this film, Part One. Maybe we need to see Part TWO to find that revolutionist face once again? (Shelly Schoeneshoefer)