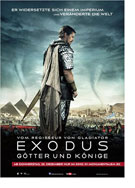 Exodus: Götter und Könige (Exodus: Gods and Kings)
U.K./U.S.A./Spain 2014
Opening 25 Dec 2014
Directed by: Ridley Scott
Writing credits: Adam Cooper, Bill Collage, Jeffrey Caine, Steven Zaillian
Principal actors: Christian Bale, Joel Edgerton, Ben Kingsley, Aaron Paul, Ben Mendelsohn
Exodus is a very old story told in a very new way. It is the late Thirteenth Century B.C., during the time Egyptian Pharaoh Seti (John Turturro) is dying. Turturro, almost unrecognizable under black eyeliner reminiscent of the 1960s, makes a convincing declining king. Although Seti is proud of his arrogant son Ramses (Joel Edgerton), he admires the wisdom and strength of Moses (Christian Bale), who has been raised with Ramses. The two men are like brothers. In the opening battle, where 15,000 Egyptian soldiers attack a Hittite encampment, Moses saves Ramses' life, leaving them to ponder the prophecy of the lovely High Priestess (Indira Varma) who foretold that during battle a leader will be saved and his savior will become a leader.
Ramses, finding the task beneath him, ignores his father's request that he visit the Hebrew slaves to find out about a possible uprising and sends Moses instead. Moses is sincerely interested in the plight of the slaves and questions their spiritual leader, Nun (played by a much understated Ben Kingsley), who in turn reveals to Moses that he is in fact a Hebrew, predestined to lead them to freedom. The conversation is overheard and later revealed to Ramses, now Pharaoh after his father's death. Edgerton sensitively portrays Ramses as both heartbroken brother and defiant king when Ramses sees no choice other than to send Moses into exile. Moses, portrayed by Bale as reserved and contemplative, leaves the palace, finds a village wife and begins a family. But chance conversations with a small boy spur him on to leave his quiet life and join the Hebrew slaves to lead them against their Egyptian masters.
Moses tries to bargain with Ramses to let the Hebrews go, but Ramses stubbornly refuses to negotiate. As both sides agonize, Moses seeks help from God. The Egyptians are then struck by plagues: raging crocodiles in the Nile River attack supply ships; all the fish in the Nile die; frogs invade the city of Pi-Ramses; after the frogs die, swarms of flies and maggots descend; the Egyptians suffer from lesions and boils; there is a massive hailstorm followed by an invasion of locusts. The Egyptian scientists try to explain each new plague. But when all the firstborn sons of Egypt die one night, including Ramses' own son, and no Hebrew slave firstborn son is dead, Ramses agrees to let the 400,000 Hebrew slaves leave with Moses.
Director Ridley Scott utilizes contemporary visual effects and 3D to immerse the audience in ancient Egypt. The palaces are magnificent. The royal costumes are luxurious. The landscapes are rich and real, often losing the visual effects in the contours of Almeria, Spain or Fuerteventura. The multitudes of slaves are pitiable. From battle scenes to a baby asleep, every scene is stunningly detailed, richly designed and practically tactile. Scott presents a truly splendid state of the art film about an epic Biblical tale. (Mary Nyiri)