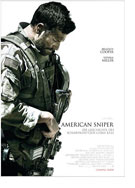 Opening 26 Feb 2015
Directed by: Clint Eastwood
Writing credits: Jason Hall, Chris Kyle, Scott McEwen, James Defelice
Principal actors: Bradley Cooper, Sienna Miller, Kyle Gallner, Cole Konis, Ben Reed
Born a century too late, the closest Chris gets to being a cowboy is the Texas rodeo circuit. His contemporary Wild West lifestyle consists of protecting his little brother, and as an adult, bronco riding, bullying, drinking, and hanging with buddies; ultimately he joins the military. Teaching him to hunt, Chris's dad praised his "natural talent"; Navy SEALS put that talent to use. This story, based on the book American Sniper Chris Kyle, co-authored with Scott McEwen and James Defelice, is about four tours – over a thousand days – Chris spent in Iraq, and his ascension to legendary status with 160 plus sniper kills.
Skimming over Chris's family and rodeo wrangling, a sequence of grueling SEAL training and Chris's meeting then marrying is capped by the team's first Iraqi deployment. Mostly we spend time with the team, easily feeling their camaraderie: Dauber (Kevin Lacz), Biggles (Jake McDorman), Dandridge (Cory Hardrict), Marc Lee (Luke Grimes), Winston (Kyle Gallner), Sanchez (Luis Jose Lopez) and Case (Eric Ladin). Puzzling is depicting team members' seemingly indifferent attitude during missions – Chris phoning Taya, guys chatting about rings – and the lack of firm military command. Eventually Chris returns home and tries to control post-traumatic memories. This takes time, enormous patience and culminates in tragedy on February 2, 2013; during end credits archival material is seen.
Bradley Cooper as Chris is good, a "for God and country" type whose emotive range is limited to fluctuating between gung-ho and regretful warrior. Sienna Miller's range, as the Stateside Taya wanting him human again and involved with their children, is strong. Filming was surely challenging; cinematographer Tom Stern meets the script's challenges, as do editors Joel Cox and Gary Roach.
Clint Eastwood's direction, moving backward/forward on a narrow timeline, concentrates on one man's story and is sure handed, if rather sugarcoated. But, Oscar® nominations for Best Picture and Best Actor (Cooper) is a stretch. Still, it is worth watching this construal fragment of the intricate Iraq invasion; the players are spot-on, and the film is fast paced, engrossing. (Marinell Haegelin)