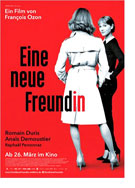 Eine neue Freundin (The New Girlfriend, Une nouvelle amie)
France 2014
Opening 26 Mar 2015
Directed by: François Ozon
Writing credits: François Ozon, Ruth Rendell
Principal actors: Romain Duris, Anaïs Demoustier, Raphaël Personnaz, Isild Le Besco, Aurore Clément
Poignant, modern, and unconventional, the film opens and centers around the friendship of Claire and Laura, who have been steadfast friends since grade school. The opening credits run as a woman seems to be getting dressed for a wedding, but it quickly becomes clear that she is getting dressed by someone else. Camera pans to a funeral scene, and we come to understand this wedding gown and its wearer (Laura) are being laid to rest.
The beginning of the film sets the stage for this deep friendship, which comes to a sad end when Laura (the blond, Alpha friend) dies after an unnamed illness. Laura is depicted as blond, confident, and strangely beautiful, whereas Claire is introduced as her red-haired, freckled-faced sidekick, playing second fiddle to Laura – chasing her on walks in the woods or being the one who pushes her on the swing set.
Laura (Isild Le Besco) is survived by her infant daughter and her husband David. Claire (Anaïs Demoustier, Das bessere Leben, Thérèse) struggles to put her own grief aside as she promised Laura to look after both baby and husband. When she unexpectedly arrives at their house, she gets more than she bargained for and catches David (Romain Duris) clad in a blond wig and women's clothes. Initially disturbed by her discovery, Claire becomes entwined in a secret friendship with David's lithe feminine persona, Virginia. As this friendship evolves, Claire takes on a more "Alpha" role in the friendship and in the bedroom, to the surprise of her somewhat aloof husband, played by Raphael Personnaz. With maiden trips to the mall, fashion tips shared in a dressing room, and dancing at a drag show, François Ozon draws the audience into the sweet and humorous side of exploring sexual identity, the LGBT community, and infidelity. The simple and limited script is refreshing and authentic, and the actors' portrayals and costume design deserve the awards they've already won and more.
Half a star deduction for the sappy singing during the campy hospital scene. But the surprise ending makes up for the lack of originality. (Ericka Seifried)