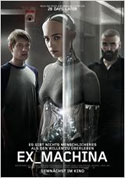 Opening 23 Apr 2015
Directed by: Alex Garland
Writing credits: Alex Garland
Principal actors: Alicia Vikander, Domhnall Gleeson, Oscar Isaac, Corey Johnson, Sonoya Mizuno
Ex Machina, an engaging psychological sci-fi thriller, demonstrates to audiences that in the overworked science-fiction genre, Alex Garland (writer/director) has produced a crisp, intelligent, 'stand out' film. Bravo!
Garland, a first-time director, has succeeded in writing and directing a film that masterfully draws you into the complex triangle of the film's three characters: Ava (Alicia Vikandr), Caleb (Domhnall Gleeson) and Nathan (Oscar Isaac). The story line delves into issues surrounding artificial intelligence and the unpredictable nexus of human emotions and sexuality with robots.
Caleb, a 24-year-old programmer, is working for the world's largest internet company and wins a company competition. The prize is a weeklong visit to the remote mountain home of the company's reclusive billionaire CEO, Nathan. Caleb quickly discovers that his prize is no more than a cunning ruse for him to be used by Nathan for his newest project, "Ava". Ava, a beautifully crafted human-form robot that possesses evolved sensory and human emotions, as well as having a super IQ, creates the conflict in the story.
All three actors skillfully portray characters with powerfully engaging performances. The audience is subtly woven into a dense web of intrigue and finds the exit curtain tangled with messy questions while leaving a queasy unresolved feeling in the pit of the stomach. The questions raised in regard to Artificial Intelligence leave the door wide open for examining moral and ethical dilemmas as society proceeds into the future. Well done! (Abby Myers)