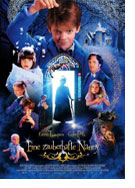 Eine Zauberhafte Nanny (Nanny McPhee)
U.K. 2005
Opening 2 Feb 2006
Directed by: Kirk Jones
Writing credits: Christianna Brand, Emma Thompson
Principal actors: Emma Thompson, Colin Firth, Kelly Macdonald, Celia Imrie, Derek Jacobi
Based on the Nurse Matilda bedtime stories by Christianna Brand, Nanny McPhee is directed by Kirk Jones (Waking Ned) and stars Emma Thompson and Colin Firth. The screenplay was written by Thompson.
Mr. Brown (Firth) is an undertaker and widower with seven adorable, clever, but very naughty children, whose primary aim in life seems to be scaring away the latest nanny employed to look after them. Their father is at his wits end, as is the cook, Mrs. Blatherwick (Imelda Staunton); only Evangeline (Kelly MacDonald), the house maid, seems able to deal with them to some degree, probably because she is genuinely fond of them. Around the chaos that fills Mr. Brown's life looms the formidable figure of his wealthy aunt Adelaide (Angela Lansbury), who supplements the family's income but who has now set an ultimatum: her nephew must marry again within the month or else she will cut him off. This would send him into debt, meaning he would go to prison and the children to foster families.
Mr. Brown is desperate, but magical help in on its way in the form of Nanny McPhee (Thompson). Far from your Mary Poppins type, Nanny McPhee is shockingly ugly: heavy brows, two big, hairy warts on her face, a bulbuous nose and a tooth that sticks out unpleasantly over her bottom lip. She quickly assesses the situation and announces that the children need her and that she will stay. Overwhelmed but relieved by McPhee's apparent competence, Mr. Brown puts his attention to the task of finding a new wife.
Nanny McPhee's methods are definitely unorthodox; a mixture of magic and Zen Buddhism! She quickly informs the children that she will "stay as long as they want her to leave, and leave as soon as they want her to stay". She has five lessons to teach them: to say please; to go to bed at night when they're told; to get up in the morning on time; to listen; and to do what is right. To the children's amazement, as each lesson is learnt another of Nanny McPhee's ugly features disappears.
In the meantime, Mr. Brown has found his future wife: Mrs. Quickly (Celia Imrie). Inevitably, she fits perfectly the children's image of a "wicked stepmother", so their pranks are now turned towards someone other than the nanny...
Nanny McPhee has a magical, fairytale quality that makes it a delightful choice for family entertainment. Emma Thompson is, as always, excellent, as are no less the rest of the cast. (Osanna Vaughn)