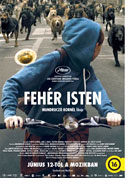 Opening 25 Jun 2015
Directed by: Kornél Mundruczó
Writing credits: Kornél Mundruczó, Viktória Petrányi
Principal actors: Zsófia Psotta, Sándor Zsótér, Lili Horváth, Szabolcs Thuróczy, Lili Monori
White God by director Kornél Mundruczó opens with a theatrical scene of an abandoned street in a metropolis city in Hungary where 13-year-old Lili quickly rides her bike over a giant bridge. At first we see abandoned cars, but then the scene cuts to a horrifying vision of two-hundred-and-fifty dogs chasing after Lili. As an audience we are terrified. The story then takes a step back in time where Lili is being dropped off to her estranged father for the summer by her mother and her new boyfriend. We immediately get the feeling that she was some abandoned mutt searching for her place in life. In fact she is not only carrying her luggage but also has a mongrel with her, which does not please her father. We learn quickly that the laws in Hungary are against those mixed breeds; a law has been placed that supports only the true breeds, all others will be heavily taxed. The result is that people have to pay a heavy price for having these mongrels, and so begins the purge of dumping dogs off at the humane society or into the streets where dogs naturally form huge packs and roam the streets. They are not only hungry but angry from the abuse and abandonment from their former masters.
For Lili, her dog Hagen is her best friend despite the fact he looks like a pit bull to us. In fact he is more than that, he is her family, and they have a very special relationship which is centered on music. Her father is dead-set against the dog since his ex-wife bought the dog and so the struggle begins between daughter and father. Lili's cries are agonizing as Hagen is pulled from the car by her father and left on the street. There is nothing she can do about it as the car continues en route. Despite her promises to obey her father's wishes to continue on with the orchestra, she begins the search for her lost dog, her family member, the only one who understands her. Meanwhile Hagen joins a giant pack and then at some point is kidnapped, drugged and brutally trained to become a killer and then placed into a dog fighting arena.
The audience becomes restless and nervous, barely handling the scene of two dogs growling at each other behind a set of walls. Then the scene cuts to just hearing growling sounds. Much to my surprise, the woman next to me left in panic as she cried out, "I can't see this, I own a dog." Many more sprang up from their seats and ran from the cinema. Then the scene cuts again to show us blood on the ground and blood on the victorious dog Hagen, as the men begin fighting over it. More viewers left sensing that more horrific scenes were to come but at that point Hagen disappears and returns to his giant pack. I wanted to laugh, because in reality we didn't even see the dogs fighting and, because I have a dog, I can tell the difference between a staged dog fight and a real one. I saw the movie twice in order to see if the reaction would be the same the second time around and it happened the exactly same way as the first.
This film won the main prize at Cannes under the category Un certain regard, so obviously people do see this strong message of the film and understood that director Kornél Mundruczó was using the dogs as a personification of what is going on politically in Hungary as the right wing is growing stronger by the minute. The film had an amazing end to it which was quite unexpected, not to mention that he had to integrate and train two-hundred-and-fifty dogs to socialize with one another and not have a giant brawl. That is actually what was amazing to see. I also wanted to ask those who left, why are you able to watch people being attacked, raped and murdered but can't handle this scene between two dogs? Why has our compassion for people become less while our compassion for fighting dogs is growing? Is the film White God a spiritual sign that we can only find harmony among the mongrels and as people we can never learn? Is this political situation, which is growing in Hungary, soon to spread throughout Europe and is reminiscent of the Second World War? It was unfortunate that the director was not there to explain his choices that he made and how he made this film possible, because it was an amazing effort. (Shelly Schoeneshoefer)


Second Opinion

Thirteen-year-old Lili (Zsófia Psotta) and Hagen's devotedness weather her parents separating, but a new nemesis pops-up – Hungary's tax on non-pedigreed dogs. Using every ruse imaginable is not enough. Her father's (Sándor Zsótér) focus is misdirected, yet adamant. Alone, Hagen flounders trying to find Lili, while staying alive. Lili's rebellious actions alienate most. For Hagen, reality is excruciating in a survival-of-the-fittest environment. Routinely, caught strays are packed off to the municipal dog-pound. Concurrently, Lili unswervingly searches for her beloved Hagen. Hagen's harrowing encounters culminate in vengeful retaliation, and then, with fellow cast-outs, retribution. The day of the Lili's school's concert coincides with the day love transcends settling of scores.
The award-winning Underdog is a metaphorical exposé of humans' capacity to inflict cruelty on another, and nature, without shying from equally questionable relationships. Director Kornél Mundruczó and cast are laudable, including the main protagonists, and their trainers. Man's best friend provides comfort, and safety; guides the blind, and leads rescue teams; assists agriculturists, and give companionship. Not since Alfred Hitchcock's The Birds have we seen such harrowing payback. Asher Goldschmidt's music, Marcell Rév's cinematography, Dávid Jancsó's editing, and Márton Ágh's set design masterfully enhance. At times difficult to watch, more interesting is Underdog's duality: fecund insensitivity prevalent among people, and aversion to watching it from animals' perspectives. A real revelation, with bite and, irony – the many mutts found good homes after this film wrapped. (Marinell Haegelin)