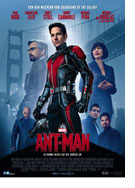 Opening 23 Jul 2015
Directed by: Peyton Reed
Writing credits: Edgar Wright, Joe Cornish, Adam McKay, Paul Rudd, Stan Lee
Principal actors: Paul Rudd, Michael Douglas, Corey Stoll, Evangeline Lilly, Bobby Cannavale
Ant-Man made its first appearance in 1962 comics by Stan Lee, Larry Lieber, and Jack Kirby. Fifty-three years later it joins Marvel's Cinematic Universe populated by the impressive likes of Iron Man, Hulk, Thor, Captain America, Falcon and others.
Brilliant Dr. Hank Pym (Michael Douglas) discovers the ultimate secret weapon, leaves S.H.I.E.L.D. and sets-up Pym Industries. Fast-forward to his former shadowy protégé Darren Cross (Corey Stoll) grandly introducing Yellowjacket. Concurrently, an exceptional cat burglar released from prison tells ex-cellmate and friend Luis (Michael Peña) he is determined to reform. In order to see his daughter (Ryder Fortson) Maggie's (Judy Greer) adamant -- visitation rights hinge on having a job, apartment, and paying child support. Making matters worse, Maggie remarried a cop (Bobby Cannavale). Desperate, Scott (Paul Rudd) acquiesces to Luis and friends (David Dastmalchian, T.I.) scheme. This sets pre-ordained balls rolling whereby Dr. Pym again mentors, with his daughter's (Evangeline Lilly) assistance. A skeptical yet quick-learning Scott is coached into the art of wearing Pym's alter-ego, its unlikely allies and its incredible, unfathomable powers. With stakes so high—protecting technology, Cassie, and the world's safety—they hatch a heist worthy of the boys' bravura.
A lot of talented expertise combines to firmly establish Ant-Man's place in Marvel's mighty universe of superheroes. Peyton Reed directs a credible, quick-moving story with a super-talented cast, and momentum that carries us -- always with offbeat humor -- at breakneck speed. Enlarging on the plausibility is the chemistry and delivery from Rudd, Douglas and Lilly, besides our liking all the motley characters. Equal attention is given to developing an ant-army of 24-hour ants, fire ants, carpenter ants, and raspberry crazy ants; each species with unique skills specific for Ant-Man's needs. Names instead of numbers is the hook to our accepting these insect-characters.
VFXperts use macro photography and motion-capture technology to shrink characters, with many more unsung computer animators creating the ant-army. Christophe Beck's music is sweeping with a sneaky sense of fun, capturing the film's nature. Russell Carpenter's cinematography gracefully melds distinctive components enhanced by Shepherd Frankel and Marcus Rowland's production design and Sammy Sheldon's costumes. Editing fluidity into the superhero-heist comedy theme are Dan Lebental and Colby Parker Jr.
This fantastic, witty miniscule hero-addition to Marvel's franchise gives us something to anticipate in ensuing gigantic entertainment. Keep in mind, leaving early means missing two hints into the future. (Marinell Haegelin)