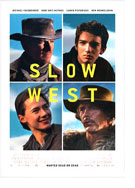 Opening 30 Jul 2015
Directed by: John Maclean
Writing credits: John Maclean
Principal actors: Kodi Smit-McPhee, Michael Fassbender, Ben Mendelsohn, Caren Pistorius, Edwin Wright
Jay Cavendish (Kodi Smit-McPhee) follows his sweet lass Rose (Caren Pistorius) across the seas to America's untamed west. In 1870, Jay's naiveté is dangerously incongruous for Colorado: a jack rabbit in a den of wolves. Meeting Silas (Michael Fassbender), a drifter with a mission, the craggy Irishman consents to guiding and protecting Jay – for a price. Quickly realizing incompatibilities as they ride deeper into the mountainous terrain and cross paths with surly predators, Jay knows his survival is dependent on Silas. Just as the kid's positiveness touches Silas. Even a grizzled interloper (Ben Mendelsohn) catching them unawares – seems Silas knows the guileful Payne – and drink-loosened tongues does not spill the beans. The hitch is, forces are asunder the 16-year old is ignorant of. Only when the preacher (Tony Croft), Indian (Kalani Queypo), Payne, and Silas – gun smoke settle are the repercussions of transgressions blown away.
Starkly splendid visuals, smooth pacing, and honest storytelling offset the raw depictions of life and death in the vast tough landscape people freely roam. Writer/director John Maclean's debut feature film is a candid, brutal portrayal of Wild West adversities, yet the smart, perceptive script's mounting tension balances mayhem with laugh-out-loud situations (unlike Tommy Lee Jones' The Homesman, 2014), romance, and a dash of the divine. A stalwart ensemble revolves on excellent performances by Kodi Smit-McPhee and Michael Fassbender; newcomer Caren Pistorius admirably holds her own. Well-placed flashbacks fill in what transpires causing Rose and dad's (Rory McCann) leaving Scotland. Attention to costumes (notice Jay's dress decline), sets and production design infuse nuances.
Following collaboration on two short films, John and Michael wanted to make a narrative feature. This particular idea matured over a couple years; Michael took John's script – for a genuine tone John read Mark Twain, Nathaniel Hawthorne, Ambrose Bierce and Laura Ingalls Wilder – to producers he had partnered with. Whereby Maclean wrote Silas's character for Fassbender, so Michael's childhood dream came true. Each character is imbued with good and bad traits with potential for change. (An aside, Kodi's dad Andy McPhee acts in the film.) Cinematographer Robbie Ryan's acuity justifies New Zealand and Scotland's grandeur that editors Roland Gallois and Jon Gregory assemble brilliantly with an unexpected, unsettling final sequence. Jed Kurzel combines guitar, mandolin and percussions for music that supports tonal values throughout. Grand Jury Prize winner at Sundance Film Festival 2015, Slow West refreshes a burned-out genre that is a rare treat not to be missed. (Marinell Haegelin)


Second Opinion

Joe Cavendish (Kodi Smit-McPhee) is a naïve 16-year-old trekking across the American frontier in search of his lost love. Along the way he enlists the help of an outlaw Silas (Michael Fassbender) to help him make the journey.
Slow West is a difficult film to put a finger on. Perhaps this is because it doesn't really know what it wants to be. Director/screenwriter John Maclean has stated that he tried to avoid Western genre clichés and bring in surreal and mythological elements to make an untypical Western. Whether he was successful in this is certainly debatable. It is easy to see the surreal elements and the almost moments slapstick comedy are some of the strongest in the film. However, it is also extremely clichéd with multiple shoot-outs, random Native American encounters with no meaning or real context, and a tragic love story. Putting both the over-the-top comedy together with a typical dramatic Western storyline doesn't really gel, and ends up making the film a bit of a head-scratcher. Perhaps, this is the result of Maclean knowing very little about the genre itself outside of watching classic Westerns. Maclean is Scottish, the main cast is entirely made up on non-Americans, and the movie was filmed in New Zealand. All of his understanding of the genre comes from second-hand sources and so when he decided to break away from its clichés, he didn't have the cultural or historical understanding to successfully do so. What results, is a film with a bit of an identity crisis, stuck between being conventional and absurd.
That being said, not all aspects of Slow West were a complete loss. The acting in general, particularly that of Michael Fassbender, was quite understated and powerful at points and Robbie Ryan's cinematography was a dream to behold. Unfortunately, even these positive aspects aren't enough to prevent the film from feeling distinctly dissatisfactory. However, it will be interesting to see what newcomer John Maclean will be coming up with in the future, for while Slow West was a disappointment, there were moments of brilliance as well. One can only hope that with time and experience, perhaps Maclean will make something truly great. (Rose Finlay)