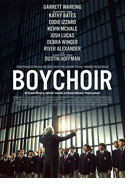 Der Chor – Stimmen des Herzens (Boychoir)
U.S.A. 2014
Opening 27 Aug 2015
Directed by: François Girard
Writing credits: Ben Ripley
Principal actors: Dustin Hoffman, Kevin McHale, Josh Lucas, Debra Winger, Garrett Wareing
The music makes seeing Boychoir laudable – the acting hits the high notes. Dustin Hoffman's choir director (Master Carvelle) is consequential and a perceptive mentor. Kathy Bates' headmistress pragmatically balances duties and faculty artistic egos. Eddie Izzard's assistant director (Drake) has invested interests for personal ulterior goals, whereas Kevin McHale (music teacher Wooly) conveys compassion and encouragement. Garrett Wareing's (Stet) debut performance is commanding; Josh Lucas (Gerald) nuances the hard-to-win-over dad; Debra Winger's principle (Ms. Steel) exudes practicality with sensitive advocacy. Deserving special kudos are American Boychoir School members for their inspiring voices, and naturalistic performances embodying the foibles of youngsters entering adulthood.
The plot's simplicity is also its forte: A poor orphaned youngster deals with what fate offers. This time in the extremes: a parched southern basin to lush New England, bare existence to opulent expectancy, forlorn to optimistic. At the exclusive choir school, Stet hides behind aloofness until, after enlisting Fernando's (Dante Soriano) help, he finds some shaky balance. Subsequently jealousy bubbles to the top over a tenor solo spot, on the eve of a long-awaited gig, putting everyone squarely on the line.
Canadian director-music supervisor François Girard understands that music is paramount to the compelling, heartwarming story in Ben Ripley's screenplay. Stellar contributions from David Franco (cinematography), Gaétan Huot (editing), and Brian Byrne (music) accompany admiringly; there are a few awkward and superfluous scenes. Under appreciated, and too often under funded, Boychoir challenges audiences to understand what is too often assumed: talent alone is not enough without artists' hard work, training, concentration, and commitment. And, how one's destiny can change when a few people believe in you. (Marinell Haegelin)


Second Opinion

I am not usually a fan of boy choirs but after seeing this film I am "hooked". The Canadian director Francois Girard could not go wrong with his stellar cast like Dustin Hoffman, Kathy Bates and Deborah Winger. Eddie Izzard, whom I had seen as a stand-up comedian in Hamburg, surprised me with his "serious role". The newcomer Garrett Wareing is very convincing as the rebellious 11-year-old with a beautiful singing voice but a past that taught him only the rules of the street. When he is sent to the prestigious boarding school of the National Boychoir it does not feel like a lucky draw. He is facing a new and difficult reality, but it's either "pulling up your socks" or living with foster parents.
This is a good mix of music film (composer Brian Byrne) and drama. I found the quality of the musical performance heart touching and got totally involved, hardly noticing that the end of the story seems to be too good to be true - but why not believe in dreams come true! (Birgit Schrumpf)


Third Opinion

Eleven-year old Stet (Wareing) starts his musical education at the esteemed Boychoir School at a great disadvantage to his classmates. If not for the relentless efforts of his school principle, this talented but troubled pre-teen wouldn't even be here. He is defiant, lacks discipline and formal training and has no family to encourage him. His single, alcoholic mother could barely take of herself. After her death the father he never met steps in, paying for the tuition to this posh boarding school, but only so he can continue to keep the existence of this extramarital son from his family.
Though the story lacks originality and surprises, it is interesting to learn about the 'inner workings' of a choir, but the music is what really makes it worth watching. Moving and inspiring! The film also benefits from its seasoned cast – especially Dustin Hoffmann as choirmaster, and Kathy Bates as headmistress. Garrett Wareing, in his first major role, has a remarkable screen presence, reminiscent of a young di Caprio. (Carola A)