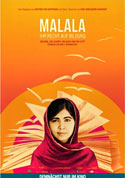 Opening 22 Oct 2015
Directed by: Davis Guggenheim
Writing credits:

"It is better to live like a lion for one day, than like a slave 100 years". Davis Guggenheim's portrait is of a world figure whose met Queen Elizabeth, President Obama, Hilary Clinton, rock stars, et al. while making time for schoolwork. Malala Yousafzai's passion is education, and is a death sentence. Flown to England from the Swat Valley, Pakistan in 2012 after being shot in the head, Malala choice was simple, "There is a moment when you have to choose to be silent, or to stand up". She defied the Taliban by attending school. Doctors did not think she was going to live; her family/father wondered if/how it would change her; intensive rehabilitation was required. Today, Malala accepts the physical repercussions, is positive with a great sense of humor, and dauntless in her quests.
Succinctly, with the aid of dramatic re-enactments, animated drawings, interviews and personal and public archival footage, a fascinating account of the young heroine emerges. "School was my home", explains Malala referring to her father Ziauddin's schools. Former family and societal customs, and the process of integration in England are meaningfully described. When Mullah Fazlullah arrived in the northwest province where the Yousafzai family lived, the Taliban soft-soaped, then brainwashed, and finally, rule through terror. Not willing to remain silent, Ziauddin initiated a peaceful protest. Prior to Malala, Taliban never hurt children. The family's first-hand accounts are staggering; Ziauddin best explains: "It was not a person (shot Malala), it is an ideology".
Director Guggenheim and his proficient editors, Greg Finton, Brad Fuller and Brian Johnson, have assembled a compelling film. We smoothly move between continents and time eras, while never loosing sight of the struggles of those caught in the crossfire of world events. Erich Roland's cinematography is comprehensive yet never invasive, just as Thomas Newman's music comprises both the strength and sensitivity of the protagonist. Some people's astonishing actions about a small thing, propels them into unlooked for greatness – Malala, and Ziauddin, are two such persons. Most interesting shall be following this 18-year old future endeavors: "It is hard to get things done in the world…have to keep trying". (Marinell Haegelin)