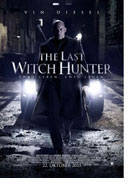 The Last Witch Hunter
U.S.A. 2015
Opening 22 Oct 2015
Directed by: Breck Eisner
Writing credits: Cory Goodman, Matt Sazama, Burk Sharpless
Principal actors: Vin Diesel, Michael Caine, Rose Leslie, Elijah Wood
A prerequisite for this film is a viewer's unequivocal enjoyment of action, adventure, fantasy movies (and a belief in witches)!  The visual richness on the big screen, the creative musical blending of sound (listen for an amazing adaptation of 'Paint It Black' by the Rolling Stones) while supporting an engaging fantasy narrative makes the 106 minutes fly by.
The story centers on Kaulder (Vin Diesel), a valiant warrior whose Viking army marches to search and destroy supernatural evil creatures that want to bring Black Death to the world. Kaulder successfully finds and slays the Witch Queen (Julie Engelbrecht), but moments before her death, this demonic witch curses Kaulder to eternal immortality. Kaulder treks through time hunting down villainous rogue witches all the while dreaming of a peaceful afterlife where he would be reunited with his wife and daughter.
Unbeknownst to Kaulder, the Witch Queen is resurrected and seeks revenge on her killer causing an epic battle that will determine the survival of the human race. The colossal "good versus evil clash" occurs and Kaulder is left with a moral decision to make. We see a developing romance between Kaulder and Chloe (Rose Leslie, whom you will recognize from her performance in Game of Thrones), a "good" witch who has been critical to the success of the recent clash.
I would be remiss if I did not mention Sir Michael Caine who masterfully plays Dolan 36, an assigned advisor to Kaulder. Mr. Caine, a veteran of over 115 films, develops his character with a level of sophistication that plays wonderfully opposite the raw raging bull Vin Diesel portrays. The final ambiguous scene leaves the audience wondering… where will Kaulder go next? Where does his alliance lie?  Where will become of Rose and Dolan? Rest assured, the sequel is in the works! (Abby Myers)