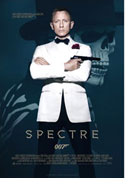 Opening 5 Nov 2015
Directed by: Sam Mendes
Writing credits: John Logan, Neal Purvis, Robert Wade, Jez Butterworth, Ian Fleming
Principal actors: Daniel Craig, Christoph Waltz, Ralph Fiennes, Monica Bellucci, Léa Seydoux
As a die-hard Bond fan (I have seen all 24 films over the past 53 years), Spectre is an homage to the spectacular epic cinema of yesteryear. This Bond film is bigger, better and bolder than we have yet seen with any 007 films to date. From the massive opening sequence of Mexico City's "Day of the Dead Festival" (think 1500 actors all beautifully costumed, dancing, singing, making music and multiply that number by ten thanks to CGI) to the breath-taking "Ice Q" building atop a mountain glacier in the Austrian Alps, the film succeeds in sweeping you away (all 148 minutes of it)!
The film finds Bond (Daniel Craig) on a rogue mission that takes him from Mexico City then to Rome and leads to his discovery of a diabolically evil underground crime syndicate named…Spectre. Back in London, Max Denbigh (Andrew Scott), the new know-it-all head of the Center for National Security criticizes the "00" program and even the need for MI6 to continue. MI6 now is under the leadership of a new M (Ralph Fiennes), following the untimely demise in the last film (Skyfall) of the old M (Dame Judi Dench). Bond recruits stalwart colleagues Miss Moneypenny (Naomie Harris) and Q (Ben Whishaw) to help him uncover Spectre. First they must find Madeleine Swann (Lea Seydoux), daughter of his archenemy Mr. White (Jesper Christensen), who has fallen victim himself to being slowly poisoned by Spectre.
Of course, the Bond formula is preserved. Bond falls captive, has near death experiences but triumphs in the end and, as expected, gets the girl. We will leave the details for the viewer to savor but all in good time.
In this Bond installment we are given views of deeper character development of Bond, M, Q and Moneypenny. This enriches the storyline, and we even see a "softer" side of Bond. He dips his toe into the pool called trust and does not recoil with suspicion. Bond, with his usual brashness and fearlessness masterfully moves the storyline along with incredible backdrops of Mexico, Italy, England, Austria, Morocco and the Sahara Desert.
Oscar-winning production designer Dennis Gassner returns for his third Bond film and has knocked it out of the park! Spectre is a visual buffet that is elaborate, visually rich and exciting. Gary Powell, stunt coordinator returns for his fourth James Bond film with brilliantly executed stunt work that adds to the thrill of viewing. Every location in Spectre features spectacular stunts and set pieces, starting with the Day of the Dead scenes in Mexico City to incredible airborne action that unfolds in Austria.
Spectre delivers it all….the best Bond film yet. Don't miss it! (Abby Myers)