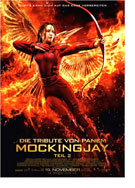 Die Tribute von Panem - Mockingjay Teil 2 (The Hunger Games: Mockingjay - Part 2)
U.S.A. 2015
Opening 19 Nov 2015
Directed by: Francis Lawrence
Writing credits: Peter Craig, Danny Strong, Suzanne Collins
Principal actors: Jennifer Lawrence, Josh Hutcherson, Liam Hemsworth, Woody Harrelson, Donald Sutherland
Wasting no time, director Francis Lawrence jumps in where Part 1 ended. Katniss a.k.a. Mockingjay's (Lawrence) neck brace is removed; previously, during Peeta's (Hutcherson) rescue he – influenced by tracker jack venom – strangled her unconscious. Now, despite Katniss' pleas, Plutarch (Philip Seymour Hoffman) will only let her watch someone Peeta trusts talking to him. But, instead, Primrose (Willow Shields) incites Peeta's anger against her sister. Like a good chess game moving toward an imminent climax, President Coin (Moore) shrewdly orders the combined thirteen districts rebel forces into position. The one player to defy is Katniss. "I, of all people, know it's always personal." Friends and allies – Gale (Hemsworth), Cressida (Dormer), Finnick (Claflin), Pollux (Elden Henson), and Peeta – support Katniss. Haymitch (Harrelson) astutely gages her mood. Concurrently, Katniss and Peeta's conversations improve – "Real, or not real?"
Meanwhile, propaganda maestro Caesar (Stanley Tucci) manipulates, whilst Panem's draconian President Snow (Donald Sutherland) maneuvers with moves, and countermoves, from his still-sumptuous mansion in the Capital. Tomorrow arrives: District 13's Commander Paylor (Patina Miller) leads the charge. Boggs (Mahershala Ali) and Lt. Jackson (Michelle Forbes) command the small, "face of the attack" team; cautiously, they enter the outskirts of the now war-torn metropolis. Even with the Holo, casualties are inevitable. Taking over, Katniss' mandate is clear: finish what she came to do. Unsuspected allies emerge, as well as unimaginable treachery, and tough moral choices. Who to trust, or not. Checkmate. As her arrow flies, only Plutarch seems unfazed.
Dark and harsh, with a brutally honest depiction of war, and gritty themes regarding human foibles are unusual ingredients for blockbusters, until The Hunger Games. Suzanne Collins' adaptation of her trilogy's third book – dived into two cinematic parts – adheres, notwithstanding some thin dialogue.
Perhaps unnoticed, since Part 2 was shot back-to-back with Mockingjay-Part 1, moves at a harrowing pace, has terrific computer generated imagery (CGI) in 2D, and great performances. Continuity and quality is maintained with Lawrence at the helm, cinematographer Jo Willems, composer James Newton Howard, and Alan Edward Bell and Mark Yoshikawa editing. The Games materialize through ingenuity from production designer Philip Messina, art director Dan Webster, Larry Dias and Mark Rosinski's set decoration, costume designers Kurt and Bart and all their teams. And so, the Hunger Games end. Expunging the Dark Days, the Panem nation commences a redemptive, cathartic era. For us, traveling backward to 2015, we have this thought-provoking tale to ponder on our journey. (Marinell Haegelin)


Second Opinion

In the dramatic conclusion to the popular Hunger Games series, the war against the Capitol is coming to its climax and Katniss Everdeen (Jennifer Lawrence) is at the fore, rallying the rebel troops to fight against their oppressors. While she is quite successful at this, her personal life is not going so well. Although Peeta Mellark (Josh Hutcherson), her friend and potential romantic interest, has been saved from his torturous internment with President Snow in the Capitol, he has been brainwashed to think of Katniss as the enemy. To end the fighting and bring a conclusion to her own suffering, she must find a way to kill President Snow, even if she must die in the process.
The Hunger Games: Mockingjay – Part 2 is an adequate adaptation of the book by the same name. No doubt fans of the series will rush to praise it as it does do the story justice, however the film does have a myriad of problems which fail to make it truly memorable. For casual viewers, perhaps the greatest failing is the assumption that the audience has either read the books or seen the previous installments, particularly Mockingjay – Part 1 (2014). The opening of Mockingjay – Part 2 shows a bruised Katniss struggling to speak. How this came to be is never explained, the assumption being that everyone has seen the previous movie. That is a big assumption to make and also it just continues to show how splitting an adaptation of a book into two parts can be absolutely jarring. Add to this a jumble of made-up words like "Avox" and "Mutt," which are likewise never explained, and the result is a film filled with nonsensical moments which make it less enjoyable.
Unfortunately, Mockingjay – Part 2 just doesn't stand out like The Hunger Games (2012) and Catching Fire (2013), and this is likely due to the fact that the source material itself is underwhelming and so the adaptation also wilts in comparison. While a civil war as the geopolitical result of the first two books is a logical step, there seems to be little reason for Katniss to continue to be involved. What results is a story where Katniss' motivations are driven by the need of the author to have her involved in the action, rather than being a true testament to the character's motivations. This is jarring in the book, but in the film which doesn't benefit from a first person narration, Katniss often comes off as a cold, unfeeling, and generally selfish with little regard for the lives of those around her. Jennifer Lawrence does her best with what little she is given, and it is a testament to her skills that she manages to make the character of Katniss sympathetic in any way, but the unfortunate result is a very frustrating conclusion to an interesting female character.
Of course, the most important question to be answered is whether Mockingjay – Part 2 is worthwhile to see. This really depends on how invested one is in the story. For fans of the books and the movies, there is no question, Mockingjay – Part 2 will meet expectations. For everyone else, there isn't anything great here that can't be missed. (Rose Finlay)