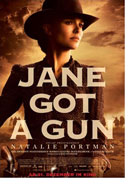 Opening 31 Dec 2015
Directed by: Gavin O'Connor
Writing credits: Brian Duffield, Anthony Tambakis, Joel Edgerton
Principal actors: Natalie Portman, Ewan McGregor, Rodrigo Santoro, Noah Emmerich, Boyd Holbrook
The territories beckoned to those with imagination and ambition. The Civil War has ended, and the yearning for a piece of land for farming or establishing a town is great. On the wagon train from Missouri to New Mexico, Jane (Natalie Portman) met her husband. Now living inconspicuously on their farm, Jane's world is shattered when Bill (Noah Emmerich) rides in all shot up. The result of a run-in with the Bishop Boys gang, and they are coming after Bill. Their ruthless, greedy leader (Ewan McGregor makes a good nasty) has old scores to settle. Taking their daughter to a friend for safekeeping, Jane turns to an old friend for help, and then goes to town for necessary supplies. Intent on safeguarding those she loves, deterrents are put in place to welcome the Boys, before a long wait commences. At that point, through conversations with Dan (Joel Edgerton) and flashbacks, the complexities of Jane's life story emerge.
Gavin O'Connor directs a traditional Western that has a few twists, and revenge at its core. Mandy Walker's camerawork is notable with its interesting framing, just as Marcello De Francisci and Lisa Gerrard's music is persuasive. Ambient authenticity is infused by Tim Grimes and James F. Oberlander's production design, and Edward McLoughlin's set decoration. Somewhat hazy is Alan Cody's editing, in where and how he inserts flashbacks. Likewise, the German dubbing lacked genuineness. Still, for a good ol' shoot-'em-up Western, Jane Got a Gun is diverting. One thing for sure, Natalie Portman can hold her own with any gang. (Marinell Haegelin)


Second Opinion

Jane Hammond (Natalie Portman) has had a difficult life, but she managed to build something by marrying Bill "Ham" Hammond, building a ranch, and having a beautiful daughter. When Ham comes home one day seriously injured and being trailed by the notorious Bishop Boys outlaw gang who once ruined her life, Jane must find a way to protect her family. Her only hope is to procure the help of her former fiancé to help her fight off the outlaws. What results is more than just a battle of guns, but also a clash between the past and the present.
Jane Got a Gun had a rather unfortunate production history. Not only did Lynn Ramsey leave the production right before the start of filming, but Michael Fassbender, Jude Law, and Bradley Cooper all came and went as well. Despite having been filmed in 2013, the film struggled to find distributors after such a tremulous beginning, hence why it is only just now being released. Unfortunately, the resulting film did not manage to overcome its rather calamitous start, for it was uninspired and clunky.
The biggest problem with Westerns is that they tend to follow a rather strict formula which involves downtrodden women, strong male saviors, shootouts, and of course a lot of death. When this is not handled with a lot of creativity and care, the result always seems to be a rather boring rehash of what has been done better in other films. Jane Got a Gun unfortunately never manages to escape the trappings of its genre. It falls back on the familiar tropes of the genre rather than ascending beyond them and it doesn't even manage to impress in other aspects such as cinematography. In the end, it is just bland, predictable, and boring. Also, while I can understand why Ewan McGregor might appreciate being cast in a role that isn't the protagonist for once, it is still very jarring to see him playing a man who has no qualms with selling a girl into sex slavery. While that might not be fair, it is the truth, and his acting does very little to smooth the transition.
There is nothing here to impress and very little that even makes it entertaining. We can only wonder at what the film might have been if it had managed to retain its initial talent. Feel free to give it a skip. (Rose Finlay)