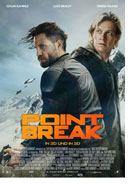 Opening 21 Jan 2016
Directed by: Ericson Core
Writing credits: Kurt Wimmer
Principal actors: Edgar Ramirez, Luke Bracey, Teresa Palmer, Delroy Lindo, Ray Winstone
A sophisticated remake of the 1991 film by the same name, the 2015 version plays out the same premise: a rookie FBI agent goes undercover to bring a super-athletic band of high-stakes thieves to justice. Johnny Utah (Bracey) returns as a poly-sports athlete disillusioned by the risks after the death of his stunt partner and best friend. He joins the FBI and is immediately confronted with an unsolved case involving daredevil criminals, who set their sights on impossible jobs requiring ultra-athletic abilities. Utah convinces his superior (Lindo) that he can track down the thieves by attempting death-defying feats on land, air, snow, and at sea. He meets the group off the coast of France and soon befriends the gang, having been rescued from a surfing accident by the ringleader, Bodhi (Ramírez).
The remake has the added element of environmental consciousness since Bodhi and his team attempt to complete the "Ozaki Eight", which is a set of athletic, life-threatening challenges bringing the athletic closer in harmony with Mother Earth. Bodhi's team devises a robbery plan that brings them in direct contact with the forces of nature. And, like Robin Hood, they give the spoils back to nature or put them directly in the hands of the less fortunate. What ensues is a race against time, skill and courage between Utah and Bodhi.
The movie puts picturesque locations at its center with breath-taking venues in Switzerland, Tahiti, Hawaii, the Italian Alps and Venezuela. The stunts and challenge scenes were shot in an "in-camera" method, so the audience experiences each stunt from the perspective of the athlete. The cinematography bring audiences up close and personal with 80-foot waves, icy clear glaciers, desert dunes and harrowing cliffs -- an added thrill factor when seen in 3D.
Even the spectacular stunts and intriguing love triangle between Utah, Samsara -- the stunning woman in the middle (Palmer) and Bodhi, the film lacks a powerful punch, as well as a loosely contrived eco-connection. A visual stunner for thrill-seekers, but plot-seekers might be slightly disappointed. (Ericka Seifried)