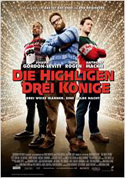 Die Highligen Drei Könige (The Night Before)
U.S.A. 2015
Opening 26 Nov 2015
Directed by: Jonathan Levine
Writing credits: Jonathan Levine, Kyle Hunter, Evan Goldberg, Ariel Shaffir
Principal actors: Joseph Gordon-Levitt, Seth Rogen, Jillian Bell, Anthony Mackie, Lizzy Caplan
The premise is sweet enough: three average guys (Ethan, Issac and Chris), friends since childhood, begin a bawdy tradition of Christmas Eve debauchery when Ethan's (Joseph Gordon-Levitt) parents are killed in a drunk-driving accident. The film opens on the trio 14 years later as their lives are moving in different directions towards fatherhood, a booming athletic career, and confirmed bachelorhood. And even the idea of an updated, testosterone-filled adaptation of A Christmas Carol is potentially good stock for a holiday classic, however this film falls short: characters are predictable, situations are not particularly funny or interesting, even the rom-com subplot between Ethan and ex-girlfriend (Lizzy Caplan) leaves you thinking they'd be doomed if they ever do manage to patch things up. Basically, there's no real buy in for the audience; it's like "Who cares?"
The scenes are disjointed and hard to follow (maybe a pre-movie buzz is required to get into it?), or downright unbelievable -- whose wife gifts him a treasure trove of recreational drugs? In this day and age, what man has bathroom sex with an elfish woman he just met on the street? Who would wear those horrid, Bill-Cosby-esque holiday sweaters outside anyway? Maybe understanding more about football and the lure of steroids would make Anthony Mackie's late-blooming NFL star portrayal more authentic? A Red Bull-sponsored limousine Hummer racing through the usually congested streets of New York? Or maybe that's Jonathan Levine's point: yuletide shock and awe with a bit of Christmas magic?
On the positive side the movie brings new meaning to the word "Bromance". It's nice to see men genuinely getting along, loving each other without being soft, and supporting one another. They are real with each other, the kind of "ride or die" everyone wishes their brother, husband or friend has to depend on. It's also refreshing to see "real" women as their counterparts: regular guys (although Seth Rogen is more Ewok than average) with regular girls, especially the lovable Jillian Bell as Issac's pregnant wife, who understands the need to cut loose every once in a while -- no lopsided, trophy brides here! And Michael Shannon plays a believably, scary, pot-smoking weed dealer as the ghost of Christmases past, present and future. Even the creative play on another holiday classic, the Nutcracka Ball -- an annual VIP event that Ethan steals tickets for and is determined end their tradition with a bang. Miley Cyrus makes a lackluster cameo as herself in a main stage show. That's more or less where the fun ends.
A tolerable date night gift to the man in your life. But make sure you get to pick the restaurant to balance out the time! (Ericka Seifried)