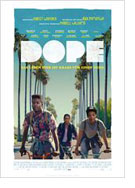 Opening 28 Jan 2016
Directed by: Rick Famuyiwa
Writing credits: Rick Famuyiwa
Principal actors: Shameik Moore, Tony Revolori, Kiersey Clemons, Zoë Kravitz, Rick Fox
High school students Malcomb (Shameik Moore), Jib (Tony Revolon) and Diggy (Kiersey Clemons) are best friends. They are also noted geeks among their school peers. Teased as the smart kids, brainy children and goody-two-shoes, their goals are set on higher ground: to graduate from high school, get out of their environment alive and attend a university.
In an attempt to make an impression on a popular girl, Nakia (Zoe Kravitz), in his class, Malcom convinces his friends to go with him to an underground party. A place normally they would never appear. As luck would have it, the three are at the wrong place at the wrong time and narrowly escape getting arrested in a drug raid. The three are in the middle of a drug deal gone bad. Among the chaos they split up and run for their lives.
Malcomb had taken his backpack to the party, but in order to look cool, he had ditched it behind the bar for safe keeping. Making sure he did not leave his laptop behind, Malcomb goes to great lengths to retrieve his backpack before escaping the clutches of the police. Once home, he is shocked to find a mother-load of drugs, which someone had added to his school supplies. Frightened, Malcomb tells Jib and Diggy and asks for advice. They evaluate the situation. Being arrested for drug dealing would negate any chance of college scholarship money, it's not a clear-cut situation. They need advice from adults whom they respect, while concealing the real reasons for their inquiry.
The safest thing for them to do is to find a way to get rid of the drugs without any trace back to them. The high school geek squad devises a fool-proof plan to sell the drugs using their chemistry lab rights and bit-coin. Foolproof? Well, not exactly, but if anyone could work the system to their advantage, Malcomb, Jib and Diggy would be the students to do it. Their crime-fighting adventure begins in the lab because they got: DOPE.
In his latest feature film Dope, filmmaker Rick Famuyiwa uses his screenplay to describe the realities of how a group of high school geeks survive in their Los Angeles hood – a drug infested, gang-run ghetto. He creatively combines traditional theater, a musical-style and comedic dialogue to make a point that smart kids exist in all walks of life and do not need to bow down to the stronghold of a negative environment. Famuyiwa's charactrs are challenged to rise above being bullied by thugs who rule their city. This was a favorite at the2015 Sundance Film Festival. (Karen Pecota)