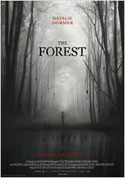 Opening 4 Feb 2016
Directed by: Jason Zada
Writing credits: Nick Antosca, Sarah Cornwell, Ben Ketai
Principal actors: Natalie Dormer, Eoin Macken, Taylor Kinney, Stephanie Vogt, Osamu Tanpopo
When the Japanese police phone Sara (Natalie Dormer plays both) concerning her sister's mysterious disappearance, Sara leaves, adamant—a twin's intuition—Jess needs her. In Japan, at Jess' school a student and the principle give Sara a forewarning. Sara reaches the Aokigahara, a notorious forest at Mount Fuji's base; her dreams and encounters become foreboding, ominous and she learns about Yurei (in Japanese folklore, ghosts, alternatively ruined or departed spirits). An encounter with Aiden (Taylor Kinney), an Australian journalist offers hope. The next day he and a trusted Japanese guide are going into the forest and she may come. Before entering the forest, Michi (Yukiyoshi Ozawa) explains that if you see something in the forest that is not real, then it iinside your head. So begins Sara's journey into another dimension, exacerbated after finding Jess's empty tent and spending the night in the unknown.
Director Jason Zada's aim was to make "an intelligent, visually stark and atmospheric psychological thriller." He was off to a good start, until plot twists became too ill conceived to ignore. Mixing paranormal aspects and entrenched superstitions requires a clearly defined direction that is not here. A back-story provides a plausible explanation for Jess's inner trauma. The actors seem capable, although the German synchronization—passably read—dilutes. Interesting are Japanese location shots, and Mattias Troelstrup's cinematography. Editor Jim Flynn had to work trying to sensibly combine all the elements, albeit more finesse could have been used inserting Bear McCreary's music. Likewise, if McCreary's music had more emotively tonal edge, the volume need not be cranked up to signal "here are/come scary bits." For die-hard fans of this genre, The Forest will most likely be an entertaining 94-minute sit-through. (Marinell Haegelin)


Second Opinion

It's hard to believe that places like the Aokigahara forest exist, but in real life they do. Aokigahara is a 35-square-kilometer forest which lies at the base of Mount Fuji. It is known as The Sea of Trees due to the fact that there are so many trees there and the forest is dense. It is so dense and has a magnetic field there which stops many electronic devices from working including cell phones. This forest has also a traditional and historical reputation of being haunted with demons and has become a place to commit suicide and ranks as one of the three most popular places in the world. Therefore it is also named The Suicide Forest, and every year the forest rangers have to search for the dead. The highest count has been 105 bodies in 2003. It is also known for its undergrown caves which also attracts tourist and since it is easy to lose your way in the forest, people use plastic ribbons to mark their way so they can find their way back.
So with that in mind, this place makes an ideal setting for a supernatural/horror film. Natalie Dormer, who had a strong role in Game of Thrones, now plays a double role of twin sisters. Sara, who is living in America, hears that her sister Jess has disappeared in the Aokigahara and is assumed dead. But as a twin sister, Sara knows that is not true. She knows that her sister suffers with depression more than her and has been there for her, which gives her the strength to head off to Japan to save the day. But is she really prepared to pay the price?
With the use of eerie music and an ideal setting, this horror film comes to life. It includes ghosts, demons, and has sense of insecurity and isolation. Sara is accompanied by an Australian journalist Taylor Kinney and Forest Ranger Yurkiyoshi Ozawa, but the ghosts can play with your mind and before long, Sara is following one of these ribbons, which may lead her to not help her or her sister. I was relieved to see this film was not a slasher movie but would have like to have seen the script go more into the Japanese mythology and develop the characters from the other side more. So the question is: for your next holiday would you book a ticket to the Aokigahara or watch this film for a scream? (Shelly Schoeneshoefer)