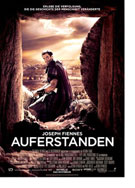 Auferstanden (Risen)
U.S.A. 2016
Opening 17 Mar 2016
Directed by: Kevin Reynolds
Writing credits: Kevin Reynolds, Paul Aiello
Principal actors: Joseph Fiennes, Tom Felton, Peter Firth, Cliff Curtis, María Botto
Set ca. 33 AD, this work of historical fiction depicts three days of the New Testament resurrection and ascension as a crime scene investigation, uniquely told from the viewpoint of the Romans, with the central character not Yeshua (a Hebrew word for Jesus, Cliff Curtis), but a Roman Centurion, Clavius (with a sensitive, transformational performance by Joseph Fiennes, Shakespeare in Love) -- although not named in the Bible, surely there was a soldier in charge at the crucifixion.
Pontius Pilate (Peter Firth, MI5 officer Harry Pierce in BBC series Spooks), preoccupied with Caesar's imminent visit to Jerusalem and fearful of possible Hebrew riots, orders Clavius to oversee that nothing goes wrong with the death and burial of Yeshua.
CSI Clavius begins when the body disappears at the tomb, examining every thread of torn rope for clues, interrogating, trying first to find the body; and when that fails, to find a suitable substitute. His young and ambitious assistant Lucius (Tom Felton, Draco Malfoy in the Harry Potter films) is a suitable foil to emphasize Clavius' strength.
Filmed in Spain and Malta with beautiful land- and seascapes, ancient catacombs, and minimal CGI, this is a rare detective story that ends with the triumph of love. (Nancy Tilitz)