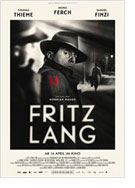 Opening 14 Apr 2016
Directed by: Gordian Maugg
Writing credits: Gordian Maugg, Alexander Häusser
Principal actors: Christoph Bertram, Heino Ferch, Samuel Finzi, Lisa Friederich, Johanna Gastdorf
Born in Vienna, Fritz Lang (1890-1976) became one of Germany's and Hollywood's most famous directors. This fictional documentary, directed by Gordian Maugg, shows how Lang's first sound film, "M", starring Peter Lorre, came to be. It also presents a biographical story of Lang that is gripping but speculative.
Lang's movie "M" deals with a serial murderer, Peter Kürten, who terrorized the city of Düsseldorf in 1930. Lang (very convincingly played by Heino Ferch) travels to Düsseldorf to investigate the story as material for a future film and becomes deeply involved in the personal history of the killer. This part of Lang's biography is well-documented, based on protocols of interviews that the investigating police and he conducted with Kürten (Samuel Finzi). The interviews reveal the workings of the mind of a psychopath who suffered serious abuse as a child, causing him to lose all capacity for empathy. At the time the movie "M" appeared, this interpretation was revolutionary since it intimated that the killer was not completely responsible for his behavior and therefore deserving of some sympathy.
Maugg's fictional documentary suggests that Lang's involvement with the killer raised specters of his own past, his own abuse by his father, his brutal experiences in World War I, in which he too participated in killings, and the possibility that he killed his first wife, Elisabeth Rosenthal. In actuality, Lisa, as she was called, was found shot dead by a bullet from Lang's revolver, although it was never determined whether her death was caused by suicide or murder. Maugg pleads the case for murder by depicting Lang as unusually brutal in a scene with a prostitute at the beginning of the film and as potentially violent in connection with drug abuse.
Produced solely in black and white as an ingenious mosaic of documentary fragments, live scenes, and scenes from the movie "M", Maugg's film is a first class psychological thriller well worth seeing if you understand German (no subtitles!) (Pat Nevers)