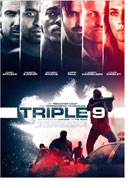 Opening 5 May 2016
Directed by: John Hillcoat
Writing credits: Matt Cook
Principal actors: Casey Affleck, Chiwetel Ejiofor, Anthony Mackie, Woody Harrelson, Aaron Paul
A gang, made up of criminals and dirty cops, teams up to undertake a number of heists to appease the wife of a Russian mafia boss, Irina Vaslov (Kate Winslet). All goes fairly well until Irina asks for one last 'job'. This final heist promises to be the ultimate payoff for all, both good and bad. In order to complete the heist the gang must commit a 999 – the US police code for 'officer down'. However, the unsuspecting good cop who is the target for the 'office down', Chris Allen (Casey Affleck) and his famous, almost-good-cop uncle Jeffrey Allen (Woody Harrelson) have their own plan to bring down the gang before they strike again. Unfortunately, the good guys don't know the full plan or the players, and the bad guys manage to wreak havoc before everything comes together at the end.
This thriller takes off at a breakneck speed and doesn't slow down until the climax, providing some plot twists along the way to keep everyone wondering what or indeed who is next. Triple 9 has everything you need in a 'cops and robbers' movie; high speed freeway chases, bank heists, shot outs and wanton violence. All this is delivered by some solid performances from a heavy weight cast. (Christine Riney)


Second Opinion

At breakneck speed, up close and personal, the film scrutinizes the raunchy underbelly of humankind. The sprawling metropolis of Atlanta, Georgia, USA, is home to many fine citizens, as well as nebulous denizens. Usually, Russel (Reedus) and Mike (Ejiofor) operate alone; it goes with their training. But, because this job is tricky, and the client (Winslet) ruthless, they recruit guys (Paul, Mackie, Collins Jr.) who have the wherewithal, desire and will not let them down. Concurrently, Lt Jeffrey Allen (Harrelson), whose squad covers a particularly colorful, squalid section of the city, is given a gruesome gang killing to sort out. While his nephew (Affleck) settles into a new job and partner. In parallel action: A "cosmic serious coincidence" gets Allen's attention big-time; there is another must-do heist for the group; the Russian mafia ramps up pressure and, let's face it, dirty cops are not the epitome of trustworthiness.
Matt Cook's story is tight, dense with plot twists; John Hillcoat's directorial approach integrates archival, hand-held, and stationary camerawork to catch the pulse-stopping action, and every nuance of grit delivered by the stellar cast. Affleck's on a run of notable performances, Harrelson is being compared to Duval, it takes a few onscreen appearances to recognize Winslet, and who would guess Michael Kenneth Williams could transform from Chalky White (Boardwalk Empire, TV series) to Sweet Pea. Nicolas Karakatsanis' camera amazingly catches everything, whereby Dylan Tichenor edits down to a heartbeat, accompanied by notable sound design and music by Bobby Krlic, Atticus Ross, Leopold Ross and Claudia Sarne. If you are a fan of the pre-sensitized 1970s action-crime-dramas, take advantage of Triple 9—a shrewd title—that pulls no punches in exposing certain people's proclivity for squalor. (Marinell Haegelin)