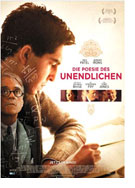 Die Poesie des Unendlichen (The Man Who Knew Infinity)
U.S.A./U.K. 2015
Opening 12 May 2016
Directed by: Matthew Brown
Writing credits: Matt Cook, Robert Kanigel
Principal actors: Jeremy Irons, Dev Patel, Stephen Fry, Toby Jones, Jeremy Northam
Based on Robert Kanigel's 1991 novel, The Man Who Knew Infinity: A Life of the Genius Ramanujan, Matt Cook's screenplay is based on true events in Srinivasa Ramanujan Iyengar's life. Born in Madras, India, the self-taught prodigy's (Patel) enamor with math overshadows personal friendships, apart from his mother who instills Brahmin culture in his soul, and his much younger, yet sensible wife (Devika Bhise). The film's focus is on Ramanujan's relationships: with family, allies, classmates, academics, and mentor.
Determined, wanting to be challenged and published, with his employer's (Fry) support Ramanujan gains admittance to Trinity College, Cambridge University, England in 1914. Under the renowned mathematician G.H. Hardy's (Irons) mentorship, with a lot of finessing from Hardy's colleague Littlewood (Jones) – "great knowledge often comes from the humblest origins" – Ramanujan settles into the alien lifestyle, and clothing. Other academics (McNally, Richard Johnson) staunchly oppose the Indian upstart, as well as some students. Hardy's focus is convincing Ramanujan to establish foundations for his theorems.
Unimportant, is understanding math to appreciate this film. Thinking outside the box, Ramanujan is governed by a force foreign to Hardy's mindset; Irons and Patel's characters metamorphosis into men sharing an unusual friendship is warmly sincere, fascinating. Matthew Brown assuredly directs his stalwart cast and, in fine British-film tradition judiciously, with sensitivity. As well as attentive to detailing, compliments of Production Design (Luciana Arrighi, Rajeevan), Art Direction (Andrew Munro supervisor, Justin Warburton-Brown), and Set Decoration (Liz Ainley). Cinematographer Larry Smith and Editor JC Bond honor the intrinsic tactility. Interestingly, in 2014 writer-director Gnana Rajasekaran shot the Indo-Brit co-production, Ramanujan in Tamil and English. Centering on the mother-wife-mentor relationships and tributes, it received mixed reviews.
A Maths genius, Ramanujan Iyengar's too short life (22.12.1887 – 26.04.1920), was consequential – perhaps more than any biography film can capture. Ramanujan's influence is currently relevant to black holes in the universe. Undisputedly, the man deserves accolades, and recognition beyond academia and India – we all know Newton's impact. This film tickles our imagination a propos the fundamental creativity of math, which says a lot. (Marinell Haegelin)