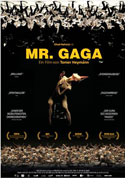 Opening 12 May 2016
Directed by: Tomer Heymann
Writing credits: Ohad Naharin
Principal actors: Ohad Naharin, Tzofia Naharin, Avi Belleli
Don't worry, this documentary isn't about Lady Gaga's husband, son, father or uncle as the title may suggest. The word gaga in Hebrew means touch, touch and refers to the innovative dance method which the Mr Gaga of the title has developed. This is Ohad Naharin, a charismatic figure who tells us his life story and illustrates it with some fascinating glimpses into that life.
Up until the age of five Ohad lived on a kibbutz in Israel and he remembers an idyllic childhood surrounded by happy children. As he grew he became a lively, athletic teenager who loved to dance and do gymnastics, clearly illustrated in an old home video which his parents made.
Soon it was time for his national service but an injury to his foot prevented him from becoming a soldier. He was placed in an entertainments unit and he had found his niche. He discovered that he had a knack for getting soldiers to express themselves through movement. An abiding memory from this time was being able to help soldiers in the Golan Heights who had been traumatised during the Yom Kippur war by means of his ideas.
After his national service and despite being a relative newcomer to the world of dance, Ohad decided that he wanted a career in the dance world. When Martha Graham visited Israel, Ohad caught her attention and he soon found himself dancing for her in New York City. There he developed and polished his dancing and choreographic skills and found himself a wife, an Asian American beauty who also happened to be a leading ballerina in the world of modern dance.
Ohad's time in the States was creative and productive but not very happy because he was homesick for Israel. So, with his wife in tow, he returned to Tel Aviv to become artistic director of the Batsheva Dance Academy in Israel's capital city. He discovered that the prestigious academy was old fashioned and poorly attended and the dancers and audiences weren't quite ready for Ohad's innovative new ideas. The first few nights of his debut performance suggested that he was doomed to failure, but word got about that he had something new and exciting to show the world and suddenly a new, young and lively audience began to attend his performances. As the years pass Ohad's skills as a dancer, teacher and choreographer have grown and his dance troupe is now world famous.
Mr. Gaga narrates his story while illustrating the ideas he has created. These are fascinating to watch. A particularly amusing example of his creativity is a dance he invented which demonstrates his wife's love of Pepsi Cola. Ohad dances beside a pile of empty Pepsi bottles and a shopping cart. At one point he climbs into the cart and manages to stand up and dance in it without it tipping over. This is one of many ingenious examples of clever dancing and choreography which show new ways of using ordinary materials and incorporating them into extraordinary dance routines.
The Batsheva Academy is now known worldwide as a showcase for Ohad Naharin's creative talents. His dancers are fiercely loyal to him and he is recognised as a leading figure in the world of modern dance. This documentary is a splendid showcase for a determined and fascinating man who has devoted his life to pushing forward the boundaries of modern ballet techniques. (Jenny Mather)