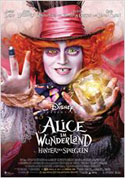 Alice im Wunderland: Hinter den Spiegeln (Alice Through the Looking Glass)
U.S.A. 2016
Opening 26 May 2016
Directed by: James Bobin
Writing credits: Linda Woolverton, Lewis Carroll
Principal actors: Mia Wasikowska, Johnny Depp, Helena Bonham Carter, Anne Hathaway, Sacha Baron Cohen
"The only way to achieve the impossible is to believe it is possible." Curiously, Linda Woolverton (screenplay) and James Bobin (director) must, because their extension of Lewis Carroll's Through the Looking-Glass, and What Alice Found There (1871), the sequel to his beloved Alice's Adventures in Wonderland (1865) has Alice thriving, and in Wonderland. Woolverton's liberal, yet clever, modifications do not infringe on the novel's integrity, or somberness. Whereby Bobin combines a serious yet whimsical hand maneuvering a stellar cast, that Andrew Weisblum deftly snips together; the story runs in parallel directions, amongst assorted times and locations.
Humpty Dumpty (John Sessions), White Rabbit (Michael Sheen), Bayard (Timothy Spall), Dormouse (Barbara Windsor), Mantel Clock (Andrew Sachs), Cheshire Cat (Stephen Fry), Tweedledum and Tweedledee (Matt Lucas), et al. are here: their rich voice acting bring the anthropomorphized animals characters to life, enlarging visual delights.
Alice (Wasikowska's performance is strong) is freshly returned from a three-year voyage only to learn her world has gone topsy-turvy. Her mother (Lindsay Duncan) is supportive, if not apprehensive. At Lord Ascot's (Leo Bill) ball, Alice's most pleasant surprise is Blue Butterfly's (Rickman, voice) intervention. Things in Wonderland are not well – more specifically, the Hatter (Depp); her friends are desperate for help. Following Butterfly through the mirror returns Alice to back-to-front Wonderland, and an unusual foray into a new realm. But, Time's (Baron Cohen shines) schedule waits for no one; "I'm having the time of my life." A heated exchange, exacerbated by the Red Queen's (Bonham Carter) appearance dictates Alice taking drastic—White Queen (Hathaway), and company condone—measures. And so, Alice's trajectory – a time hole, instead of a rabbit hole – incurs meeting friends, before they are.
The production design, art direction, set decoration, costumes, make-up, special effects (SFX), and assorted digital artists deserve mention for their brilliantly quirky manifestations. Danny Elfman's music and Stuart Dryburgh's cinematography is nicely expressive. Though, the dialogues sophisticated, spirited wordplay is packed with innuendos and puns making it impossible to translate into other languages. Just as the beginning and end leave little doubt that, we shall be meeting Alice in a future endeavor, presumably involving her Wonderland friends. "Curious and curiouser." (Marinell Haegelin)