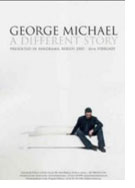 George Michael - A Different Story
U.K. 2005
Opening 12 Jan 2006
Directed by: Southan Morris
Writing credits: Southan Morris, George Michael

In 1982, Yorgos Kyriatou Panayioutou burst into the pop music scene in the duo Wham!
Known professionally as George Michael, he and school friend Andrew Ridgeley released their first single, Wham Rap, followed by Young Guns (Go for It!) which lead to a string of Top 10 singles. Just who George Michael was and who he has become is partly explained in intimate detail in his own autobio-documentary which he calls A Different Story.
Even if you are not a fan of George Michael as a pop songwriter and lead singer, his story is entertaining and his bluntness refreshing. In his film he unflinchingly relives his outrageously bad fashion sense, stubbly chin and silly hairstyles with clips from Wham! concerts. Wham! crossed international borders, and their videos became a smash on MTV. George's solo Careless Whisper, released while he was still part of Wham!, was a number-one hit. While they were still hot, the duo split, and George began his solo career in 1987 with the mega-hit Faith. Faith won the Grammy for Best Album in 1988. From that album came six No. 1 hit singles in the U.S.: Faith, Father Figure, One More Try, I Want Your Sex, Monkey, and Kissing a Fool. The album also became the first number one rhythm and blues album in the U.S. by a white artist. His next album, Listen Without Prejudice: Vol. 1 (1990), tried to address criticism that George was merely a frivolous pop musician. His U.S. fans did not accept the change of style, although the album made number one on the U.K. chart.
Just how a boy from the suburbs of Hertfordshire, England, became an 80s pop sensation is approached by George with his own bit of disbelief. He goes back to the house where he grew up and talks about his family and friends, but in particular his close relationship with his mother. Clearly George still aches from the early death of his mother. And he is visibly grieved by the loss of his Brazilian lover Anselmo Feleppa to an AIDS-related illness, for whom he wrote Please Send Me Someone (Anselmo's Song). As Anselmo was dying, George sang at the Freddie Mercury Tribute Concert and felt that his performance for Anselmo was one of his best. He contributed the hit song Too Funky to the charity album Red, Hot and Dance to raise money for combating AIDS.
In 1993 George sued Sony Music Entertainment, claiming they did not adequately support his artistic development. He lost. No new albums were released until he bought his way out of the contract. In 1996 he released Older with Dreamworks Records, but sales were disappointing. His career went from bad to worse when in April 1998 he was arrested in a Beverly Hills public toilet for committing a "lewd act". Unprecedented tabloid press coverage caused George to speak openly about his homosexuality for the first time. George admitted what a mistake it was for "George Michael" to do such a thing. In retrospect he may have known what was about to happen and subconsciously wanted to use the situation to finally come out. Other famous musicians talk about George in clips interspersed throughout the film: Boy George, Elton John, Geri Halliwell, Mariah Carey and Sting to name a few. George is also reunited for the first time in twenty years with his duo partner Andrew Ridgeley. His partner, Texas fitness instructor Kenny Goss, adds a few thoughts.
George was asking for controversy when in 2001 he decided to take on Prime Minister Tony Blair and his obedience to President George W. Bush by depicting Blair as a poodle for Bush in his song/video Shoot the Dog. Although more critical of Bush than Blair, the single was not released in the U.S. and George took a beating from many critics for trying to enter the political arena. (Mary Nyiri)