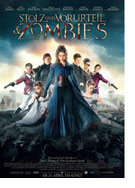 Stolz und Vorurteil & Zombies (Pride and Prejudice and Zombies)
U.S.A./U.K. 2016
Opening 9 Jun 2016
Directed by: Burrs Steers
Writing credits: Burrs Steers, Seth Grahame-Smith
Principal actors: Lily James, Sam Riley, Jack Huston, Bella Heathcote, Douglas Booth
"It is a truth universally acknowledged that a zombie in possession of brains must be in want of more brains." This quotation opens the film and prepares us for the dilemma the gentry is facing from hordes of zombies roaming the country side of 19th century England. The movie is based on Seth Grahame-Smith's book, published in 2009. This parody of Pride and Prejudice uses Jane Austen's 1813 novel by adding new details and combining it with a parallel story of a zombie plague.
The noble Bennet family is taking precautions against the looming zombie apocalypse. Their daughters have been trained in martial arts and know how to fight. When two wealthy gentlemen, Mr. Bingley and Colonel Darcy, move into the neighborhood Mrs. Bennet gets all excited hoping for a husband for her marriageable daughters. Pretty Jane promptly falls in love with the handsome Mr. Bingley whereas her sister Elizabeth is attracted to the cool and aloof Mr. Darcy but knows how to hide her feelings. The new neighbors' luxurious ball is interrupted when a zombie is discovered. Elizabeth, joined by Darcy, bravely fights-off the danger. He is very impressed by her powerful skills and sees her in a new light. Now it is his turn to suppress his growing interest in her.
To everyone's surprise, Darcy and Bingley suddenly leave for London leaving the Bennet family in great confusion. George Wickham of the locally stationed military unit tries to court Elizabeth. But neither he nor the prim and proper Mr. Collins stand a chance with her. She cannot forget Mr. Darcy and looks for an opportunity to see him again. What follows is their stormy encounter in a cottage (which is my favorite scene) where both engage in a battle of words leading to a physical fight barely disguising their romantic involvement. The fierce fighting culminates when Elizabeth skillfully pops-off the buttons of Mr. Darcy's waistcoat using a letter-opener as a sword and in revenge he swiftly takes a fireplace-poker to undo her bodice. Eventually both are on the floor amidst broken furniture breathlessly declaring their love for each other in "original" Austen-dialogue. Wonderful and hilariously funny. It shows temperament, style and exceptionally agile acting.
This parody is a mix-up of a period movie where horrid monsters keep disturbing the peace. The film profits from a well-qualified cast having to switch from ballroom scenes and elegant conversation to sequences of zombie slaughter. It's amusing to watch the elegant young ladies engaging in Shaolin-type fighting or hiding a deadly knife in their garter. But you have to be open-minded towards the handling of this famous English Classic. For zombie lovers it might not be horrible enough. (Birgit Schrumpf)