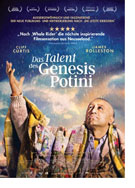 Das Talent des Genesis Potini (The Dark Horse)
New Zealand 2014
Opening 16 Jun 2016
Directed by: James Napier Robertson
Writing credits: James Napier Robertson
Principal actors: Cliff Curtis, James Rolleston, Kirk Torrance, Wayne Hapi
On the surface Genesis Potini looks and acts like a strange mentally ill man who has nothing to offer to anyone. But this is a true story about an unconventional hero who helped change the youth in his community for the better. Genesis Potini was New Zealand's unknown chess hero, as well as a native Maori who battled with a bi-polar disorder which took away years of his life in the outside world as he was moved in and out of metal institutions. Director James Napier Robertson put everything into this film. He not only directed it but wrote the script and acted in it. He asked help from his community as well as his family who all had roles in the film. Even his grandmother, who is well known in the community, had a role which was his way of paying tribute to community. At the beginning of the film Genesis is faced with the reality that he has only once chance to get out and that is through his brother who is the only family member left. His brother, who is in a criminal biker clan, shakes his head as if to say if I am your hope, you are in trouble. But Potini immediately focuses on a future possibility with a small community outreach program and begins to teach kids chess, but more importantly gives them self-esteem and a chance to do something. Cliff Curtis gives an outstanding performance as he plays this complex character. It is an uplifting movie that gives all of us to believe we can all become invisible heroes if we are willing to go out into our communities and give a little bit more. (Shelly Schoeneshoefer)


Second Opinion

Inspired by Jim Marbrook's 2003 documentary, writer-director James Napier Robertson's The Dark Horse concentrates on that period when the fledgling Eastern Knights confoundingly wins the chess Youth Championship. Because of one remarkable person's guidance. Of Maori descent, the skilled New Zealand speed chess player Genesis Potini was exceptional. Trilingual (Maori, English and Chinese), Gen's knowledge covered many subjects, including Maori folklore and traditions, even though frequently in/out of hospitals because of a bipolar disorder. Nevertheless, his love of the game became a stabilizing factor, establishing him as a community champion and national legend by the time of his death in 2011 from a heart attack.
According to Eastern Knights cofounder Noble Keelan, Cliff Curtis embodies Gen "da man" Potini: his smallest mannerisms and manic-depressive bouts. Curtis is clearly amazing. Making an impressive film debut as Ariki, Genesis's biker gang bro, is the Auckland street musician Wayne Hapi. Also impressive is James Rolleston as Ariki's son Mana, a kid caught between two worlds and two willful, fierce brothers. This love-triangle is the film's catalyst.
Kirk Torrance's performance is firm, honed and his physical resemblance to Keelan uncanny. Barry Te Hira depicts the abusive repugnant gang member Mutt, tasked with putting Mana through rituals leading to his being patched. All actors bring honest realism to reliving that astounding period of history. And, most played chess during downtime on the film set. Production values are first-rate.
Gen teaching chess to Maori kids from troubled backgrounds is shown, yet scarcely encompasses the extent of his accomplishments. Using Maori mythology and well-earned life comparisons, Gen included math, spelling, grammar, discipline, and "don't leave anyone behind" in chess lessons. The Dark Horse—Potini's moniker—accomplished what still confounds many educators. He simply guided kids in settling into the game; inner potential they were unaware of presented possibilities, and futures they never imagined. The children, needing stability, gave Genisis his through a passion they learned to share. A story of personal greatness, told with finesse, also lets audiences know about someone who left his imprint on the world. "Kia ora tautini tonu te kingi!" (Long live da king!) (Marinell Haegelin)